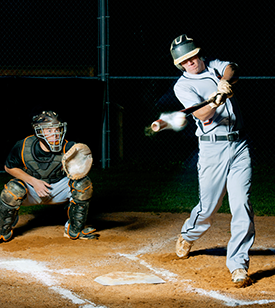 One of the best ways to connect with executives of companies who are on your prospect list is to sound like an executive. Don't just sound like one, BE one. The power of word usage and the development of your vocabulary are critical to your success.
How can words be powerful and does it really matter?
Consider these two sentences:
We have ways to help what you do work better.
We have some tools that can leverage your system much in the same way that we've been working with your industry peers on.
Notice how the A. sentence sounds very vague. The B sentence clarifies a bit, and uses the power word, leverage – a great word to use between professionals.
You have the choice every time you open your mouth to say anything – and you choose certain things to say. As a professional in selling, start to think about what those things are – what words do you say that are helpful toward building rapport with others, and what words bog you down?
Do you use crutch words? If so, just realizing what they are will help you minimize them and you will sound more professional.
Think of some other action verbs that can help your buyer create an image in their mind around what you are talking about –
Execute on a tactic
Pilot a program
Persuade with an idea
Establish new customer standards
Think about how your reader or voice mail message listener, who are prospective buyers, will feel with your message, whether you've voice mailed it or emailed it.

Will they think, "just another sales guy / gal"

OR

Will they think, "I don't know this person but they sure know something about our company / my industry / my role at the company "

What you say MATTERS. Just like Major League Baseball players are at Spring Training now, you should be too – with what you say, how you say it, and who you say it to.

Here are a couple great resources for immediate support of you becoming a more conscientious speaker:

Inc. Magazine article to help you with 20 phrases you may be saying incorrectly

Inc. also posted this on 32 Incorrectly Used Words That Can Make You Look Bad

Hubspot has a series of posts that will help you with word power – for example:

Find apps for your phone or tablet that help build vocabulary.

Attend a local Toastmasters group, which I've written about many times before. Their two goals are to help you improve your communication and develop leadership skills.

For more great ideas try our Inside Sales tips ebook, a free download

Lori Richardson is recognized on Forbes as one of the "Top 30 Social Sales Influencers" worldwide. Lori speaks, writes, trains, and consults with inside sales teams in mid-sized companies. Subscribe to the award-winning blog and the "Sales Ideas In A Minute" newsletter for sales strategies, tactics, and tips in selling. Increase Opportunities. Expand Your Pipeline. Close More Deals.
email lori@scoremoresales.com | My LinkedIn Profile | twitter | Visit us on google+