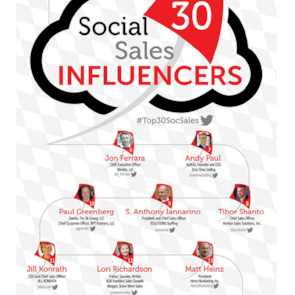 Almost three years ago, I was named to a list of Top Social Sales Influencers – I came in at #12 on the list which had been researched by an influencer marketing agency for an up and coming sales tech tool company, KiteDesk.
The reason I'm thinking about it now is because I will be in Seattle next week to speak alongside one of my two "neighbors" on the list – Matt Heinz of Heinz Marketing.
If you go to the article on Forbes, written by Megan Biro, you'll see it's been viewed almost 74,000 times. I'm not sure what KiteDesk paid for the research to be done, but it's fair to say that lots of us on the list (myself included) got attention, views, and discussions started because of it.
At that time, Biro reported:
"less than half of front line salespeople are using social media for prospecting, monitoring conversations, interacting with customers or gathering intelligence."
It is different today – more sellers are utilizing tools like LinkedIn and Sales Navigator to find information about prospects and existing customers. Most reps will agree that they search for intel on LinkedIn. But there is SO much MORE they could be doing. I want to share a few tips that all companies by now, in 2017 should be clear on, and remind sellers and sales leaders something we've known here at Score More Sales for a long time – it takes multiple platforms to gain the attention of your buyer.
Now that every sales team is hearing about Account-based selling (ABS or ABM), social ties in SO well to this focus on key people and buying teams within specific clients and prospects.
My No-Brainer List of Must Dos:
Learn Where Your Customers Are on Social and Listen to Them
Every company involved in B2B sales should be monitoring their customers WHO ARE ON SOCIAL CHANNELS. We have clients in manufacturing who say, "our clients are NOT on social" and that is baloney. I say, find the ones who ARE and set up a Twitter list (or monitor in the social tool of your choice). Existing customers say things in their Twitter feed that are important for you as their vendor to know. You can learn what they value as a company or what is important to them if they recognize customer service. It can give you insights you would not have unless you walked the floors of that company. This should not be done by a rep(s) but by someone in marketing or have a sales analyst help with this. It's critical and can be a fast track to seeing the value of doing it.
Stop Tracking Only Dials and Phone or Email Conversations
If your reps are on the front line, allow them ways to use social as a valuable touch in their sales prospecting cadence. If you only (STILL) care about how many dials they made, you are going to see your sales momentum and reps decline. The key to reaching buyers today is by being creative, not calculating. If I can reference something my buyer said in an article they wrote or share on LinkedIn, or in a tweet, they know I'm not cutting and pasting text messaging to them. As a buyer, I can agree that WE HATE BLANKET GENERIC COMMUNICATION. Even when it is targeted – for example:
Someone sends me a note saying, "I really admire your work and would like to suggest…."
OR
Someone sends me a note saying, "Your blog post about sales influencers really hit home. What I liked about it was….." And they build a relationship FIRST. Then hit me with the pitch.
Make Time to Look at New Tools If You Are a Sales Leader
Pick a day or two each month when you will review technology – this will keep you from stopping your other work to focus on something new, then spend time thinking about it. Instead use the first Monday of the month and the last Monday – or the 2nd of the month and the middle of the month. Seeing new technology will give you ideas about what you could be capturing or confirm that what you're doing is current.
Support Innovation in Your Sales Team
Nothing new happens until you try something different. What worked in the 90's and 00's isn't good enough today. The basics ARE, so don't lose them, but keep your eye open to what you're not seeing and capturing.
Ask for Help
We help our clients with an amazing online learning tool customized for success in getting up to speed the right way to incorporate the social selling techniques which add value and grow revenues. Just ask us and we'll loop you in.
---
Lori Richardson helps mid-sized companies grow revenues by solving key issues in their sales department - like recruiting, retention, diversity hiring, process, pipeline and leadership. She speaks at CEO groups on topics of sales growth. Clients include companies in the technology, telecom, manufacturing, distribution, and professional services industries. Subscribe to the award-winning blog, follow her on Twitter
Increase Opportunities. Expand Your Pipeline. Close More Deals. Develop Sales Leaders
email lori@ScoreMoreSales.com | My LinkedIn Profile | @scoremoresales | G+