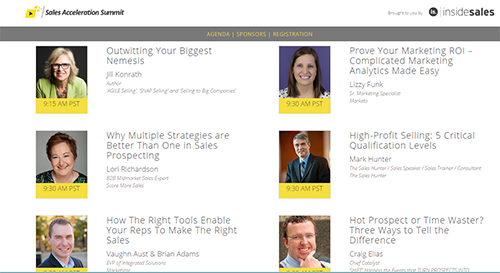 Last year I was somewhat apprehensive when asked to participate in a virtual sales acceleration summit with 70 or 80 other presenters. It turned out to be fantastic – so much content with actionable tips and ideas for you to grow your sales career at no dollar cost – just time to listen to recorded sessions.

This year the Sales Acceleration Summit will not disappoint either. If you want to hear some of the top speakers in sales effectiveness today, you need to sign up here.

Over 80 speakers – from NFL great Steve Young to respected sales expert and best-selling author Jill Konrath to world-renowned speakers talking about hot topics. This is content rich, and promotion light. Some topics I regularly speak with clients with will be discussed in many sessions – topics like:

Email engagement best practices

What's really working to get buyers?

Leveraging LinkedIn for Lead Development

5 Secrets to Craft Cold E-mails that Won't Be Ignored

Modern Day Selling in a Socially Connected World

And MORE……

Sign up here. No fees to attend – just great value!

My session is "Why Multiple Strategies are Better than One in Sales Prospecting" and gives immediate ideas to grow your prospecting net bigger and wider with more success.

I'll be live tweeting that day using #salessummit

You can reach me through Twitter @scoremoresales

Big thanks to InsideSales.com for the mammoth task of putting this together. I will see you there!

Lori Richardson is recognized on Forbes as one of the "Top 30 Social Sales Influencers" worldwide. Lori speaks, writes, trains, and consults with inside sales teams in mid-sized companies. Subscribe to the award-winning blog and the "Sales Ideas In A Minute" newsletter for sales strategies, tactics, and tips in selling. Increase Opportunities. Expand Your Pipeline. Close More Deals.
email lori@scoremoresales.com | My LinkedIn Profile | twitter | Visit us on google+