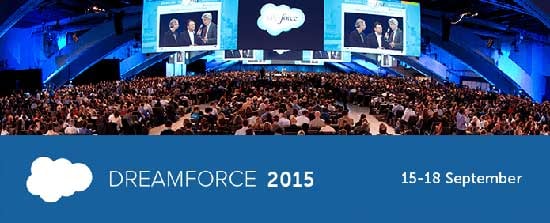 The excitement is palpable here in San Francisco for the week of Dreamforce 15 that is about to begin. After being at so many, one would think it might get boring, but I am never bored here. There's a reason for it:
If you are ATTENDING Dreamforce 15 be sure to do the following:
CONNECT with others through Chatter to see what people are talking about
ATTEND my session – "The Payoff for More Women in Sales" on Wednesday 8AM at the Marriott Marquis, Yerba Buena Salon 15. It is one of the highest enrolled sessions. I'm thrilled that our panel consists of such heavy hitters as:
Lindsey Armstrong, SVP of Int'l Strategy, InsideSales.com
Shep Maher, SVP Sales, Guidespark
Jill Konrath, Founder, President of Jill Konrath (and best-selling sales author)
Elizabeth Grande, Account Director, Thomson Reuters
If you do attend, PLEASE let me know who you are – I always love putting together faces with names. If we don't connect at Dreamforce 15 send me a tweet to @scoremorsales and perhaps we'll meet up.
INSIGHT: Download the Ultimate Guide to Dreamforce15 by Wizdee
SALES TOOLS: Check out the Walking Trail of Must-see Tools at Dreamforce 15 by Smart Selling Tools
CAN'T ATTEND? Do what I did one year – follow along on Twitter. It is amazing what the #DF15 hashtag will offer you, as well as hashtags like ours for women in sales, which is #WomenSellDF15
AMPLIFY what others at #DF15 are saying by retweeting and adding your comments. It's the next best thing to being there!
---

Lori Richardson is recognized on Forbes as one of the "Top 30 Social Sales Influencers" worldwide and is a Top 25 Innovative Sales Blogger. Lori speaks, writes, trains, and consults with inside sales teams in mid-sized companies. Subscribe to the award-winning blog for sales strategies, tactics, and tips.
Increase Opportunities. Expand Your Pipeline. Close More Deals. Develop Sales Leaders
email lori@scoremoresales.com | My LinkedIn Profile | @scoremoresales | Visit us on google+