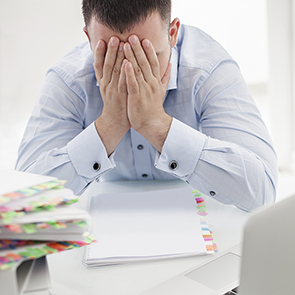 Recently we shared a post 5 Ways – Don't Leave Money on the Table and this week we break it down by one item at a time. Losing track of a prospect is one of the biggest ways to lose a sales opportunity because research shows that only 3% of buyers are ready to buy at any given time. The remaining 97% are either not going to buy or will buy at a later time. It's the latter group, who will buy at a later time, that you need to be thinking about as a seller.
97% Not Going To Buy OR Will Buy LATER
Whether we are being lazy, ignorant, or just stupid, most of us don't do well following up on sales opportunities even with technology tools to help us. Why is that?
We are in an instant-gratification society. It takes work to develop sales opportunities over time. This can be frustrating for some of us. Notice I say us and not you. I fall into the impatience camp all the time.
How could my prospect not get back to me?
Why are they taking so long? I laid everything out so well for them!
Don't they know how great we are and how anything else would be a mistake for them to make?
Ha. Sellers (me included) say these things in our heads, don't we? Sometimes we say them to our coworkers.
Get into the head of your buyer.
Who else has approached them and what ideas have they shared?
What if your buyer has bigger (other) issues to deal with, like an audit or top executive leaving or decline in sales? What if there is a big focus on this quarter's sales and no big decisions are being made for a couple of months?
Here are some best practices to not lose track of a prospect not yet ready to buy:
Learn more about why your buyer isn't ready. Does it seem like a real reason? If not, you may need to "peel the onion back" – ask more questions to see if you have the real reason. Sometimes one change causes other changes in a company (example: new sales process and sales training can cause process and procedure changes in marketing, finance, production and product management – if a buyer is looking ahead into all of this they may simply say that now is not the right time but not give you the full reason.
Learn whether you have enough of the decision making team in the loop for this purchase if it is more than a simple decision. CEB reported in 2016 that now there are 6.8 stakeholders, on average, involved in a B2B complex purchase decision. If you only have one contact and they go dark, you have other options within a company. Depending on who you were talking with, it is possible another route in could get you more insight and let you know what you need to know to move the opportunity forward.
Learn about your buyer's world. What other issues do they have? What is a day in their life like? Did you ask them? The more you know about what they are dealing with the better you can be of support and value. [Hint: if their biggest issue is that they don't have enough salespeople now, even if you are not a recruiter you can refer them to another hiring source or post in social media about their job openings. Your willingness to do this shows that you're in it to be of service, not just close business. ]
Learn about your buyer's industry counterparts (competitors). What are they doing that you can share with your buyer? You may have some insight that would be helpful to further build trust.
From a technical standpoint, make SURE you update your notes in your CRM system. If you have a smart CRM make sure it reflects current actions and conversations. Usually something is missing. Don't rely on technology alone – it takes YOUR insight in YOUR brain to help you get further along with your buyers.
Don't be lazy.
Don't be ignorant.
Don't be stupid.
Be smart.
Ask more questions without sounding like an interrogation. Ask better questions. Learn about how your tone can affect your relationship with the people who may buy from you. Be a student of communication.
---
Lori Richardson helps mid-sized companies grow revenues by solving key issues in their sales department - like recruiting, retention, diversity hiring, process, pipeline and leadership. She speaks at CEO groups on topics of sales growth. Clients include companies in the technology, telecom, manufacturing, distribution, and professional services industries. Subscribe to the award-winning blog, follow her on Twitter
Increase Opportunities. Expand Your Pipeline. Close More Deals. Develop Sales Leaders
email lori@ScoreMoreSales.com | My LinkedIn Profile | @scoremoresales | G+