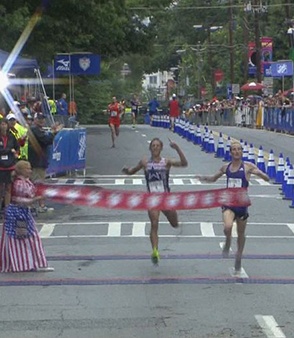 It happens all the time – hard working sales reps so optimistic or sure that they stop working before they should – and often blow the opportunity. Close the deal BEFORE you spend the bonus
The world's biggest 10K race was last weekend in Atlanta. It is the AJC Peachtree Road Race. Watching news highlights you see the leader in the men's finals look behind him, confident he's about to win. As he focuses on himself – putting his hands in the air in victory, the ultimate winner, named Scott Overall runs right past and wins by ONE second..
You can see the guy who lost and the winner just passing him in the photo. The video is even more telling.
This is a perfect metaphor for what we do in sales all the time.
The buyer LOVES us – this deal will close.
I need it by end of month / quarter / year – this deal will close.
My contact is going to sell the decision maker on it for me – this deal will close.
Of course they will go with us – what OTHER option do they have? This deal will close.
They said they just need some time to get some details worked out – this deal will close.
Have you put your hands up in the air a bit too soon?
Now is the time to go back and understand if you have covered all of the elements for success.
Do you know:
Who everyone on the buying team is and have you talked to them?
What they will do if they don't go with your solution?
If there is any real or perceived urgency? The status quo may be your biggest competitor here.
What else is important that your contact is working on?
If the final decision maker supports your recommendation?
NOW is the time to go back and be a sales detective.
See if you have forgotten anything. Start from the beginning and try not to be assumptive or dismissive about any element of the opportunity.
Getting an objective other person's point of view is helpful (that's what WE do!) because often people like your immediate sales manager may not have the time OR will not be as objective as you need.
So, what will you do?
Raise your hands in victory before you cross the finish line?
If you have a great story about when this happened to you in the past, please share it – we'd love to hear it and will reward the best story with a coffee card on July 15th.

Lori Richardson is recognized on Forbes as one of the "Top 30 Social Sales Influencers" worldwide and is a Top 25 Innovative Sales Blogger. Lori speaks, writes, trains, and consults with inside sales teams in mid-sized companies. Subscribe to the award-winning blog for sales strategies, tactics, and tips.
Increase Opportunities. Expand Your Pipeline. Close More Deals.
email lori@scoremoresales.com | My LinkedIn Profile | twitter | Visit us on google+
Photo credit - 11 Live News