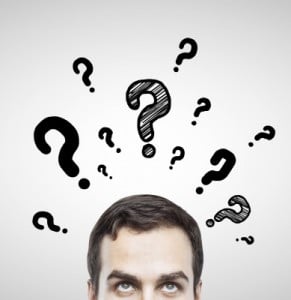 Looking back, I remember thinking that Ron had some sort of memory problem. He was my sales colleague. We both were account managers selling millions of dollars worth of technology to a major aircraft company. Between us, we sold more than $30M a year of items selling for $20 or $100 or $5000 each.
Ron and I would meet with various decision makers who were involved in a project that would involve thousands of the items we sold on one contract. Ron would always ask the same questions –
"Why?" (usually he would smile and with his charming style expand to ask why they needed something now, or why they needed it at all).

"Who?" (Ron would ask who else needed to give input on this or who some of the items would be for).
"How?" (He'd usually end up learning the back story on the project, which had more to do with airplanes and less to do with our products – which lead back to "why").
"When?" (Always seeing if we'd have any wiggle room, Ron would verify whether they needed something "yesterday" as often told to us, or in fact, if there really was a time cushion and we could deliver without a rush at our end).
Then we would meet with someone else in the same division who was either an influencer or part of the decision team for the same project. Ron would ask the SAME questions quite often.
I was young and really did think he had either a mental issue or great memory problem. Why would he ask the same questions he'd gotten answers to already?
Eventually It Hit Me
Ron was doing what great sellers do – gathering information through simple, open-ended questions to learn more. By doing this, we gained knowledge that helped in two areas:
We learned what was true among multiple people on a team – not just one person's opinion. This was critical information because we would run into people claiming to have influence only to find out they did not, or someone claiming to know something that was not true.

We had the understanding of what was being purchased and why to such a degree that we could inform others at this company who were not in the loop.
The knowledge we could gain by asking open-ended questions made us true consultative partners with our Fortune 100 client. We also knew when something was "up" – either a competitor of ours working to unseat us or one of our contacts getting transferred or promoted.
This information gained by learning more about our client in a curious, light-hearted manner kept us as a primary vendor for several years. We would get new purchasing contacts regularly but our relationships went all the way to the top due to our understanding of how and why things worked.
Get More Answers
It can take weeks or months for some in sales to truly qualify a sales opportunity. Take a moment to list out the questions you don't have answers for with existing clients and also with your top prospective customers. Get those answers.
This exercise will help you determine if a sales opportunity is probable or not – it can save you hours or months of effort, and it can help you close business sooner.
What clients do you need questions answered?
Do you know how to be curious versus an interrogator?
What's the win in it for them to help you?
A special thanks to my friend Mark Hunter for reminding me of this by way of his great post about the best sales questions.
If you would like more on this, visit our recent Inside Sales Power Tip on Listening.
Image credit: peshkova / 123RF Stock Photo

This post was written as part of the IBM for Midsize Business program, which provides midsize businesses with the tools, expertise and solutions they need to become engines of a smarter planet. I've been compensated to contribute to this program, but the opinions expressed in this post are my own and don't necessarily represent IBM's positions, strategies or opinions.

Lori Richardson is recognized as one of the "Top 25 Sales Influencers for 2013" and one of "20 Women to Watch in Sales Lead Management for 2013". Lori speaks, writes, trains, and consults with inside and outbound sellers in technology and services companies. Subscribe to the award-winning blog and the "Sales Ideas In A Minute" newsletter for sales strategies, tactics, and tips. Increase Opportunities. Expand Your Pipeline. Close More Deals.