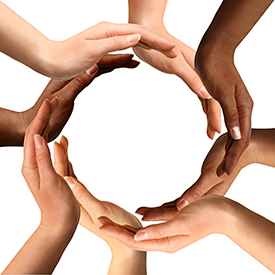 As we are growing our LinkedIn Connections on a daily basis – do you still think about who you connect to? I've seen some people now connecting to anyone who reaches out to connect.
Yesterday, someone sent me this request:

It looks so canned, yet I am sure some percentage of people who have a blog or are sharing their point of view online might quickly accept this request to connect. I'm not with them on this.
It is TOO EASY to send mass marketed connection requests. So instead of sending the canned message from LinkedIn to connect (super lazy approach), instead you are making your own canned request and sending it to everyone out there you want to be connected to?
If nothing else, they could have personalized it with my name – that would take 5 seconds to do. Better yet they could actually see something about me and hook me in by me feeling like they do know something about me.
Instead of the blanket, mass-crafted messaging – try an approach where you EARN a connection. You make it personal to the person receiving the request to connect. I know what you are thinking – but that takes WORK and TIME and EFFORT. Yup. It does.
So instead of me receiving a note that says this:
Lori,
I head up business development efforts with xxxxxxxxxxxxxxxxxx we recently launched a new platform that fills our clients sales pepelines with interested decision makers (no cold calling or gimmicky sales tactics).

I am taking an educated shot in the dark here, however based on your LinkedIn profile, you appear to be an appropriate person to connect with, or might at least point me in the right direction.

I was looking to speak with someone in your organization who is responsible for handling new business development and sales opportunities.

If that's you, are you open to a fifteen minutes call this week to explore ...
Someone should take the time to look me up and see that I'm not that person in a large company they want to reach. This was a message sent through a group that the person and I are both members of – another LinkedIn strategy for reaching people – but it needs to be PERSONALIZED.
If this person took one minute they could have seen that I was not a fit for their mass message. What else do you notice about this message?
Every paragraph starts with the word, "I". It is all about them – not about me.
Learn about your audience and network. See what types of notes you like receiving. Are you OK with anyone reaching out in an impersonal way, that you don't know, and you'll connect to them?
Treat your LinkedIn connections like gold – know who they are, or at least that they have some connection to you and are not random connections so that you can have tens of thousands of names of people you don't know. It's like collecting gem stones – do you want good ones or will any old fake gem do?
Reach out to others with something about THEM first – then you. This one shift will change your success rate in making new connections. Find a hook – something about them that connects them to you or your company or region – and you have the foundation for starting a conversation that might mean as much to them as to you.

Lori Richardson is recognized on Forbes as one of the "Top 30 Social Sales Influencers" worldwide. Lori speaks, writes, trains, and consults with inside sales teams in mid-sized companies. Subscribe to the award-winning blog and the "Sales Ideas In A Minute" newsletter for sales strategies, tactics, and tips in selling. Increase Opportunities. Expand Your Pipeline. Close More Deals.
email lori@scoremoresales.com | My LinkedIn Profile | twitter | Visit us on google+