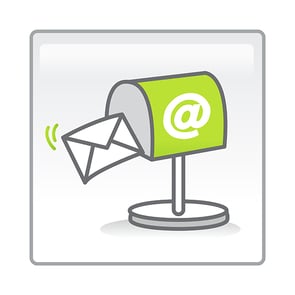 People are working at a frenetic pace at most companies. If they are a small or medium sized business (SMB) people always are doing two or more jobs.
In a major corporation, when someone leaves the company often their duties are delegated to others. Sales rep left or got let go? The accounts and prospects get distributed too.
With everything going on, it can be difficult to get someone to focus – to receive a message and actually reply to it – not just open the email.
There are a lot of debates about how to get someone's attention in business, especially when their whole work existence is rushed and crazy.
How do you get their attention when sending an initial e-mail?
People are getting hundreds of e-mails a day in their inbox. That equals thousands in a matter of days. Some confess to more than ten thousand messages piling up and the one you sent them, well, becomes a distant memory by the afternoon or next day.
If it is summer or a time when there is a week-long project or offsite, it can be futile to get all email read and dealt with.
Recently someone told me they had the best "opening" for an email that got them more results than anything they had ever written. They did not say what it was, and others on the webinar sent me email asking me to find out what this person does. I tracked him down and we talked about what he said. I'm cautious to even mention it because I don't want to say ineffective things on my blog - even if they were someone else's words - so instead, I'm asking inside sales experts and loyal readers to this blog to post in the comments what YOU think is the most effective opening, or subject line, or message to get someone to pay attention and even respond to your business e-mail.
I have a training strategy that I'll share once others have responded - it is a combination of a catchy subject line coupled with an insight-driven first 2 sentences. But we want to hear what YOU do to get a response.
Add your idea(s) as a comment by 8/16 (must be received by 6PM Eastern), and the TOP tip or strategy as chosen by the Score More Sales training team (comprised of 4 people) will win a $50 Amazon or Starbucks digital gift card. (US Funds). If we have TWO great answers from two different readers, we will award TWO gift cards.
We will also share a post shortly with over 20 resources for improved email messaging for sellers talking to prospective buyers.
Grab your most successful sales person and ask them what they do to get the best response, or share what you do yourself – and post your answer as a comment OR tweet it to @scoremoresales
Sales experts are welcome to post comments without links - we'll be sticklers about that due to readership feedback.
Do you grab buyers with the very best subject line?
Do you gain their interest with your opening paragraph?
What do you say?
It's guaranteed that thousands upon thousands are looking for this answer. Why not help them find it?
---

Lori Richardson helps mid-sized companies grow revenues by solving key issues in their sales department - like recruiting, retention, diversity hiring, process, pipeline and leadership. She speaks at CEO groups on topics of sales growth. Clients include companies in the technology, telecom, manufacturing, distribution, and professional services industries. Subscribe to the award-winning blog, follow her on Twitter
Increase Opportunities. Expand Your Pipeline. Close More Deals. Develop Sales Leaders
email lori@ScoreMoreSales.com | My LinkedIn Profile | @scoremoresales | G+