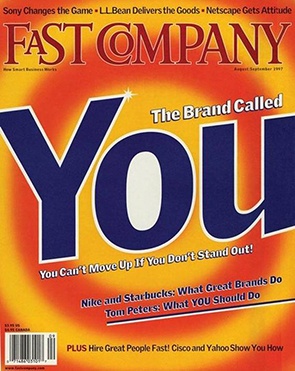 Last night I spoke to a great group in Boston - the Enterprise Sales Meetup and talked about building your brand as a seller. Below are my 9 tips for success. Having a personal brand is critical for success in sales – it is how others can differentiate you when your product or service seems similar to others in the marketplace.
The image in this post is from the very first Fast Company Magazine. I will never forget it. It was 1997 and the words on the front still ring as true today as they did then. Build the brand called YOU in your role as a professional in sales. You will not regret it. Below are my 9 points from my talk, and a link to the PDF of the tips if you want to print out the handout or save it digitally. What are your thoughts and suggestions in brand building as a consultative, professional seller or sales leader?
Know Who You Are – have self-knowledge (do you know your strengths/weaknesses) We had everyone in the room turn to the person sitting next to them and share one of their own strengths. Have you thought this through for yourself? Now think of things you are less strong on – are you working on these? Find ways to make a 1% improvement every day.
Know What You Stand for – where do you draw the line? Even if you are in your first job out of college, and especially if you're in your 4th or 5th decade – take time to be still and think about what YOU stand for. You are your own brand – what does it stand for? Although I had few answers when I was in my early 20's I did know that honesty was critical to me, and integrity was everything. All else could be negotiated, and that kept me very solid with a foundation to build on.
Know What Your End Game is – where do you want to be? OK, so you are young and you don't know yet. That's fine. Do you have an inkling of an idea of the direction to go toward? I knew very early that while working in technology would be a rewarding career, I was a people person – I draw energy being around others – so my plan to work at a desk on my own away from others became clear quickly this would not work for me. As little as I knew then about my future, I knew I needed people around me to feel best as a contributor – so I switched from a tech direction to a sales direction. Listen and look for cues.
Be Visible! – do you have a digital presence? As mentioned in past writing, your digital "you" is like a trade show booth that is open 24 / 7, 365 days a year. How are you represented? Think of times you may NOT have been considered for something because of how you were misrepresented online – so work to fix that!
Add Value to Others – think abundance, not scarcity. What I know for sure is that we live in a big abundant world, and any time I feel small it's because I'm thinking with scarcity. If you are in professional sales or sales leadership – or building your own company – there is a ton of potential business out there. Focus on ensuring you are in the right market with the right products and services. If you are, and there is a need for them – you can find many ways to success.
Do Things You are Proud of – no half-baked ideas. What have you done to leave a positive mark in your industry or your profession? How do you add to that periodically? I am proud to be in a community of sales leaders who do great things and they inspire me to work to do the same. Find your tribe and do big things.
Connect to Bigger Brands- Aligning with companies and associations that have a big presence helps grow your visibility as a change agent or problem solver in your industry. How can you offer a win to a bigger organization while creating a win for yourself and others? This triple-win theory can bring great reward to all involved.
Stay Up-to-date Online – old technology hurts your brand. You know how you go to a company website and it looks like it was last updated in the late 90's? Think of the people who move on to another company. We've seen this hundreds of times. Stay current – update your LinkedIn. Use current technology on your website so it is mobile-friendly and helpful to use. Make it easy for people to engage with you.
Gain Visibility through Others – others become your salesforce, trusted referrers, your peeps who have your back. If you have a team of strategic referrers who you talk up and refer, they will do the same for you. This gives you "feet on the street" and helps you build your brand. Create a plan to connect with these folks regularly – not just occasionally.
You can download the PDF with these tips here. We'd love your thoughts via Twitter or other means. I'll share thoughts and some of the Q&A from our attendees in the third part to this post.
Read the first post Build Your Personal Brand as Seller or Sales Leader
Download the 9 Tips for Success in Building Your Personal Brand
Need some help?
---

Lori Richardson is recognized on Forbes as one of the "Top 30 Social Sales Influencers" worldwide and is a Top 25 Innovative Sales Blogger. Lori speaks, writes, trains, and consults with sales teams in mid-sized companies. Subscribe to the award-winning blog for sales strategies, tactics, and tips.
Increase Opportunities. Expand Your Pipeline. Close More Deals. Develop Sales Leaders
email lori@ScoreMoreSales.com | My LinkedIn Profile | @scoremoresales | G+