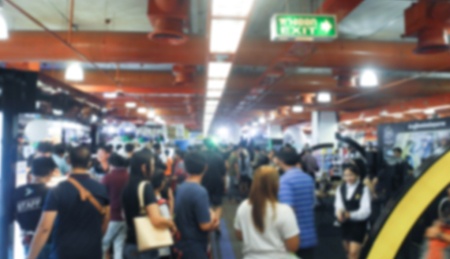 This week I'm attending in and participating in LS16 – a Leadership Summit hosted by the AA-ISP, American Association of Inside Sales Professionals. This is a big annual event, and yesterday I met many people who were there for the first time and feeling a bit overwhelmed.
Here are 5 tips for making the most of your time at an industry event. Experience has shown that most of us don't do much pre-event planning, don't maximize our time at the event, and definitely don't follow up as we should. If that is you, you're leaving money on the table.
1. BE GOAL ORIENTED
Look in advance who the speakers are. Is there anyone you'd like to meet in your industry? At a multi-day conference there are ample opportunities to introduce yourself and even set a brief time to talk with those you have not yet met. Like any other interaction in sales, be value-added. Know something about them and focus on them, not you.
2. BE PRESENT
Curb your calls and meetings outside of the event and be mindful of all of the opportunities you have around you. Attend sessions and networking that will be valuable and match up to the goals you set out in advance.
3. BE FOCUSED
This goes back to your goals. Industry events can be overwhelming so you need to stick to the reasons you are there, and make decisions based on those goals you set for yourself and your company. If there are two or more of you, split up to attend different sessions and share notes with each other and those back at the office who could not come.
4. BE STRATEGIC
From a company standpoint, a large industry event is the perfect place to have a pre or post meeting with your own team. I like post meetings because most everyone will have a new idea or resource to share and by meeting right away you can give everyone that assignment prior to the event.
5. BE INQUISITIVE
Rather than looking for prospects, I always look for interesting people. If you meet a lot of interesting people you'll find that interesting things happen for you – so focus less on your potential buyers and more on potential referrers. With referrers and partners you can help them and they can help you. Find who is open to that, and you could have the best event of your career.
In addition to the tips above, here are a few other ideas:
- Bring a small notepad to capture names – lots of people don't have business cards and this way you won't lose the thought of following up when you're back in the office
- Bring a small notepad also for other note taking – or do this online with Evernote or other tool. I use both and would not go anywhere without a small notepad.
- Pad your calendar by a few hours so you can have a chance to think – or go through business cards on your flight if you flew to the event. Make time for follow up.
- Send a handwritten card to 5 of the most interesting and successful people you met, thanking them for their time. This could be the start of a big business relationship.
What are you going to do differently next time you go to a trade event?
Need help?
---

Lori Richardson is recognized on Forbes as one of the "Top 30 Social Sales Influencers" worldwide and is a Top 25 Innovative Sales Blogger. Lori speaks, writes, trains, and consults with sales teams in mid-sized companies. Subscribe to the award-winning blog for sales strategies, tactics, and tips.
Increase Opportunities. Expand Your Pipeline. Close More Deals. Develop Sales Leaders
email lori@ScoreMoreSales.com | My LinkedIn Profile | @scoremoresales | G+