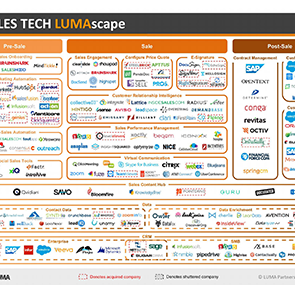 Several main stage talks and numerous breakout sessions at the 2017 AA-ISP Leadership Conference referenced the many thousands of sales tools in existence and how confusing it can be for sales leadership. It is enough to make your head spin. While you may be using 3 or 4 or more of these tools, the average number of apps in a high growth sales development team tech stack is 5 (according to TOPO.) Personally I think that is low, as most high growth sales dev teams I know of have probably closer to 10 tools they use. Just look at the graphic by LumaPartners and you can see for yourself.
There are PRE-SALE tools, including:
Sales onboarding software platforms
Marketing automation
Pre-sales automation
Social Sales tools & buyer intelligence
There are tools DURING the Sale, including:
Sales engagement
Configuring price quotes
Customer relationship intelligence
Sales performance management
Virtual communication
There are POST-SALE tools, including:
Contract management
Customer success
Customer service
THROUGHOUT All Stages, there are these tools:
Contact data
Data enrichment
CRM – Enterprise or SMB
I'm still counting our technology tools as I write this and think it is beyond 15 different technologies. Matt Reid, VP Marketing for Velocify said at the summit that technology becomes less important as you move down the funnel.
We now have real Artificial Intelligence (AI) like IBM's Watson and Salesforce's Einstein High Velocity Sales Cloud. Einstein High Velocity Sales can, for example, get rid of seller "busy work", better identify leads, and help fill the sales pipeline.
What is crazy is that we are all buying this technology typically one app at a time and many things do not work together. So do you just cobble things together, or at some point do you re-evaluate your strategy?
Who decides what tools you need?
Your SDRs?
Your CEO?
I used to work for a CEO who would read a book over the weekend then come into the office insisting that we put whatever he happened to read into place. On at least one occasion, his book reading had devastating results because what he read about was appropriate for an enterprise-sized company but not our big startup. The same can happen with apps. Someone comes in with an idea, but it is not part of the sales enablement strategy and aligned with corporate goals. It becomes disruptive, and not in a good way.
We are seeing some traditional companies (manufacturing, distribution) where they are slow to change and add technology that can be really helpful, and on the other hand our SaaS clients who seem to have new tools to talk about every other week.
What is the answer?
MUST HAVES
Velocify's research showed that company leaders rated the sales tool "must haves" as:
• CRM and pipeline management
• Email tracking
• Lead distribution and call management
Notice that these all focus on engagement and the front end of the sales pipeline.
Learn what others in your industry are doing. Attend events like AA-ISP where you can meet sales tools companies. Do online demos and trials to learn more.
You and your company must evolve, yet you need to be strategic.
---
Lori Richardson helps mid-sized companies grow revenues by solving key issues in their sales department - like recruiting, retention, diversity hiring, process, pipeline and leadership. She speaks at CEO groups on topics of sales growth. Clients include companies in the technology, telecom, manufacturing, distribution, and professional services industries. Subscribe to the award-winning blog, follow her on Twitter
Increase Opportunities. Expand Your Pipeline. Close More Deals. Develop Sales Leaders
email lori@ScoreMoreSales.com | My LinkedIn Profile | @scoremoresales | G+