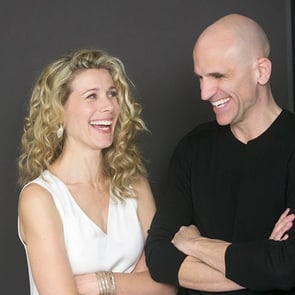 My good friend, Jim Keenan, author of Not Taught, speaker, and colleague started a meme for people to share who impacted them the most in their business growth in 2016. I have heard a lot of negativity about 2016, and yet, in professional B2B selling there is always lemonade to be had from your lemons.
Keenan would love to see this meme gain steam (hey, that rhymes) so use the hashtag #HelpedMe2016 when sharing socially so others can read about the awesome folks impacting us – and share your OWN impactful person too. Read Keenan's original post and see my own answers below. Then share yours.
Many, many people have helped Score More Sales and me personally this year, just like every other year. We have fantastic clients, amazing partners, mentors, advisors, colleagues, and great support companies we work with daily. How could I narrow down my appreciation to just one person since there are SO many? Perhaps in another post I will share more about them, but for now, I had to choose one (in this case a pair). Here are my thoughts.
WHO HAD THE GREATEST IMPACT ON MY YEAR:
Amy Port and Michael Port of Heroic Public Speaking.
WHAT DID THIS PERSON (PERSONS) HELP ME ACCOMPLISH OR ACHIEVE IN 2016?
Amy and Michael encouraged me to think BIGGER with my plans to help narrow the chasm between how companies in tech, distribution, manufacturing, telecom and others cannot hire enough good sales reps AND how there is a gigantic shortage of women sellers. Thinking bigger about this has given me a framework for a book to come out in 2017 and two meaty talks – one for companies and one for young women in colleges and universities.
WHY WAS THIS ACCOMPLISHMENT SO IMPORTANT TO ME?
I've been carrying around ideas for a few years on how to help solve a giant issue that involves a real hot topic, plus unconscious bias, some ignorance, lots of interest, and weak results. Inclusion on sales teams and in sales leadership is a big, yet narrow issue. In working with Amy and Michael I determined my direction, my big idea, and the promise for my audience who listens or who reads - that they will get tactical and strategic ideas and ultimately solutions.
WHAT DID AMY AND MICHAEL PORT DO TO HELP ME ACCOMPLISH THAT GOAL?
First, they LIVE their passion. They interacted with me multiple times - Amy directed me in a talk - they both have given me specific feedback through their Graduate Program I'm involved in - and through leading by example with their Heroic Public Speaking fundamentals gave me a framework and some order to what I have been talking about. Furthermore, they fully believe in me and my goals and they know I want to change the world of B2B sales – they support that.
HOW DID THEIR SUPPORT MAKE A DIFFERENCE?
Their honest feedback has helped me keep my message clear and my audience narrow. That clarity and niche also helped me tie this passion project back into my business so that it all flows together now.
WHY AM I SO THANKFUL FOR THEIR SUPPORT?
They are honest, challenging, caring, and they make me want to do more than what I did in the past – they inspire me to do my very best. I work on writing every day, and speaking to what my audience wants (and needs) to hear.
HOW IS MY WORLD DIFFERENT TODAY BECAUSE OF THEM?
I've been speaking to hundreds of people through the panels I moderated this past year and because of my clear focus and support from the Ports, in addition to my own rabid tenacity, I know I have helped some young women consider a B2B sales career who didn't before. This means that we are literally changing the face of business. That's a really big deal.
WHAT DO YOU WANT TO SAY TO THEM THAT YOU HAVEN'T ALREADY TOLD THEM?
Amy and Michael, you are the bee's knees. You are blazing a trail combining performance and business communication. I am thrilled for the insights that you have shared. I thank you and look forward to a big, bold 2017. Keep doing what you're doing. You really ARE changing the world – one speech at a time. Thanks for "having my back."
FILL IN THE BLANK: I WOULD LIKE TO SEE ________ SHARE WHO HAD THE MOST IMPACT IN HIS / HER LIFE THIS YEAR.
I would love to see marketing and branding speaker Dorie Clark share who had the most impact in her life this year.
I will be tweeting about this using the hashtag #HelpedMe2016 and hope you do too.
---
Lori Richardson helps mid-sized companies grow revenues by solving key issues in their sales department - like recruiting, retention, diversity hiring, process, pipeline and leadership. She speaks at CEO groups on topics of sales growth. Clients include companies in the technology, telecom, manufacturing, distribution, and professional services industries. Subscribe to the award-winning blog, follow her on Twitter
Increase Opportunities. Expand Your Pipeline. Close More Deals. Develop Sales Leaders
email lori@ScoreMoreSales.com | My LinkedIn Profile | @scoremoresales | G+