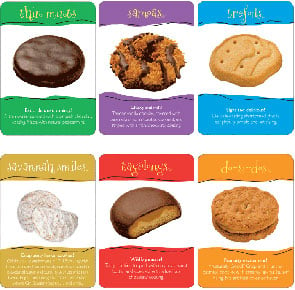 Did you know that the Girl Scouts are innovating cookie selling? Somehow I missed it last year, so their roll out this year of Cookie 2.0, a digital cookie ordering system really caught me by surprise. It is an enhancement of the 1.0 roll out last year and are teaming with partners Dell and VISA for ease of ordering.
This new system also retains the buyers information should they want to continue to support Girl Scouts.
My friend Shawn Carol lives thousands of miles away. Her daughter is selling cookies and I saw a link in Facebook to get to it. I placed my order – and in about 2 minutes – boom – done. If you are curious to see what the Scouts have done, you can see Sophia's digital cookie store here.
When I was young, we went door to door and sold our cookies – sometimes in advance, and other times we'd pick up a ton of them and they'd take over a corner of my family's living room. I loved selling cookies (no surprise, I guess) but it was always a hassle, and I noticed a lot hadn't changed over the years until recently.
Using modern sales and marketing tools makes sense and I believe it is a great idea – I just was surprised that the Girl Scouts of America may be doing a better job of meeting the customer (and their sellers) where they are before many corporations have figured it out.
The skills focused on by this new dimension which utilizes an app and a unique seller website for the girls participating are goal setting, decision making, money management, people skills, and business ethics.
Within goal setting, there is a calculator to help girls determine how many boxes of cookies they need to sell to meet their goal.
This ONE feature is something many sales teams STILL do not do!
Why are Sales Activities Important to Measure?
The sales activities from last quarter (and in some cases the quarter before that) impact your sales results TODAY.
Sellers need to know just how many prospective buyers they need to talk to so that, based on their closing ratio, history, and projected future factors.
I'm not talking about tracking dials or emails. Instead, track the number, type, and quality of conversations you or your reps are having.
Do YOU know your sales goals?
How many conversations to have in order to meet your sales number?
How many opportunities with "more probable" buyers?
What your close ratio is?
IF you know these, you'll have a much better chance of hitting your numbers and getting to quota.
Start today. Work backwards.
Need some with your Sales Process?
Reach out if we can help you with this.
It's really important to your success, and one thing you certainly can figure out. Once you do, it will support you the rest of your selling career.
---

Lori Richardson is recognized on Forbes as one of the "Top 30 Social Sales Influencers" worldwide and is a Top 25 Innovative Sales Blogger. Lori speaks, writes, trains, and consults with inside sales teams in mid-sized companies. Subscribe to the award-winning blog for sales strategies, tactics, and tips.
Increase Opportunities. Expand Your Pipeline. Close More Deals. Develop Sales Leaders
email lori@ScoreMoreSales.com | My LinkedIn Profile | @scoremoresales | G+