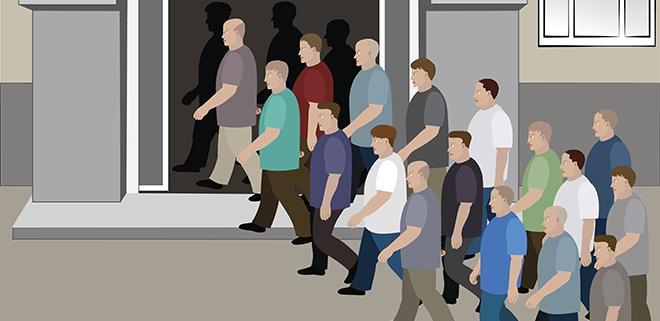 You worked hard through trial-and-error to create an introductory email that is worthy of a reply. But do you expect to really get one?
I've seen multiple conversations in LinkedIn posts and elsewhere that it is the very least good leaders should do after getting an email from you - IF you went to all that effort to create attention-grabbing emails.
Seriously?
Imagine you live in an awesome house in the middle of Anytown, USA. You work from home in an amazing office and are a busy executive running a company of 1,000 remote folks. Or 500. You are an incredibly busy person yet every day, more than 100 people walk down your driveway and to your front door – then they each ring the buzzer to try to get 5 minutes of your time. If you don't answer, they leave a card with their information on it. Since they made the effort to come to your house, walk down your driveway, knock on the door and leave you a hand-written note, are you at least going to answer each one?
Do you have any idea how may people are trying to get your buyer's attention each day?
It's nonsense to expect most of your prospects to be thoughtful enough to reply to you and let you know they are not interested in your goods or services. This is part of what your job entails – to figure out where your buyer can best be reached, and reach them there.
It takes creativity.
It takes patience.
It takes hard work.
It takes insights about their industry or role that you can help them with.
It doesn't happen overnight.
Many of us who have been sellers for a long time even have clients that don't get right back to us unless we send a second note – or third in some cases. I have family members who do not get back to me!
Not My Job
As a buyer, it is NOT (let me repeat) NOT my job to send you obvious signs of interest. It would be nice, yep, it would. Tools have been created that show you when I re-open your email or go back to that web page or click on that link.
You are a professional and you must learn ways to stand out from all of the noise – like all those people knocking at the front door and instead do something different – unconventional.
Another thing to think about is that just because I don't reply to you does NOT mean I'm not interested. If I like your approach I will show your offer to others in my company and sometimes one of them might reach out to you. You don't know exactly how the chain works – because that person on my team may go visit your website and suddenly you have an "inbound lead". You may never know that the lead came from your crafty emails that I delegated the follow up to someone else.
Find multiple ways to reach your buyers – through LinkedIn, e-mail, and his or her company's Twitter or Instagram accounts. Call them. Create a cadence of 3 different voice mail messages – each of them different, each personalized, and each adding some sort of insight to show them that YOU know about their business.
Studies show that once a buyer thinks you understand their business they are more apt to talk with you.
If it was easy, you'd be replaced by a bot.
Keep at it – and if someone DOES get back to you to let you know they are not a prospect, thank them for their effort to get back to you.
---
Lori Richardson helps mid-sized companies grow revenues by solving key issues in their sales department - like recruiting, retention, diversity hiring, process, pipeline and leadership. She speaks at CEO groups on topics of sales growth. Clients include companies in the technology, telecom, manufacturing, distribution, and professional services industries. Subscribe to the award-winning blog, follow her on Twitter
Increase Opportunities. Expand Your Pipeline. Close More Deals. Develop Sales Leaders
email lori@ScoreMoreSales.com | My LinkedIn Profile | @scoremoresales | G+