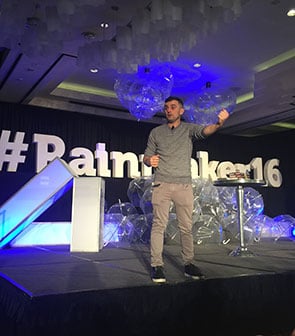 What an amazing two days in Atlanta for Rainmaker16. This was the big event for those working in B2B sales development roles – the sales reps and sales leaders making initial contact with buyers – inbound and outbound.
The fact that there were 600 registered attendees shows the huge interest in hearing what is working in sales development – the tools, technology, people, and ideas that are actionable and actually work to help grow sales. Compared to last year, which was still great – this year's lineup and sessions were phenomenal.
Here is what stood out for me and others:
What Worked Before Won't Work in the Future – Closing Keynote Gary Vaynerchuk (@GaryVee) was as edgy as ever but also very smart to walk the audience through how phone connectivity is going to be even more difficult as technology develops. The television is now like radio – an old technology that a small portion of the population uses. Gary asked a lot of questions of the "40 and over crowd" there and it really hit home that we must embrace the unknown future and be willing to keep changing. Vaynerchuk suggests allocating 20% of your time and energy to focus on where the market with be in 30 months.
Templated Email Does Not Work Anymore – Buyers are smart and we (myself included) are done with generic email messages from your company and your sales reps. It's spam. Learn ways to be more personalized. Derek Grant, VP Sales at Salesloft restated the forecast that by 2017, an estimated 132 billion emails will be sent EVERY DAY. Generic email is noise and it doesn't get opened. Sellers need to be smarter too, and send great value to potential buyers.
Perfect Practice Makes Perfect – Every rep should make mock calls of the conversations they will have when connected to a potential buyer and to improve upon the messages they'll leave. Margaret Weniger, Director of Sales Development at Salesloft says:
Our SDRs bring their best and worst calls of the week to their 1:1's and review them with their manager. The best of the best go into our 'Hall of Fame'.
Nothing like real ideas to take back to the office. There were dozens more great ideas, such as:
Matt Amundson, Director of SDRs at EverString has their SDRs conduct mock phone calls on a daily basis – and leverages their product marketing team to train his SDRs every other Friday.
Coaching is Critical for Successful SDRs – Steve Richard of ExecVision reminded everyone in his engaging presentation sharing recorded call conversations that according to the Sales Executive Council, sales teams that receive 3 hours or more of coaching per month exceed their sales goals by 7%. Average and under performing teams received less than 3 hours of coaching per month.
Trish Bertuzzi, CEO of The Bridge Group shared a great quote that really summed up the "craft" of what SDRs need to do:
It's not hard to teach anyone the proper way to set a beautiful table. What is impossible to teach is how to care deeply about setting the table beautifully. – Kyle Porter, SalesLoft
More tactical takeaways from Rainmaker16 will be shared in the days to come.
---

Lori Richardson is recognized on Forbes as one of the "Top 30 Social Sales Influencers" worldwide and is a Top 25 Innovative Sales Blogger. Lori speaks, writes, trains, and consults with sales teams in mid-sized companies. Subscribe to the award-winning blog for sales strategies, tactics, and tips.
Increase Opportunities. Expand Your Pipeline. Close More Deals. Develop Sales Leaders
email lori@ScoreMoreSales.com | My LinkedIn Profile | @scoremoresales | G+