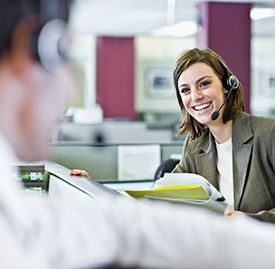 As a young SDR (sales dev rep) in my early 20's I knew some things, but there were so many things I did not know. Here is a list of what I'd tell my younger self to help build my business chops quicker and with more revenues coming in sooner in hopes they might help someone else coming up through the ranks.
You know enough without knowing deep product knowledge. As one of the sales reps making outbound calls to engage probable prospective new customers, don't worry about not knowing every aspect of the technology you sell. Learn the overview, and understand how it works together. Focus on how to have a business conversation and let the technologists talk to the technologists. In other words, if you run into someone who asks a technical question that you don't have the answer to, that is fine – you cannot know it all. It is OK to say, "That's a great question – what other questions do you have? I'll grab one of my colleagues who knows that much better than I do and we can conference her in."
Invest your learning time on communication skills and people skills. Every minute, hour, and day I spent calling and emailing prospective buyers I learned about people and improved my people skills. Set time aside every week to learn and improve. Focus on better writing, improved speaking, and listening skills so that buyers will engage with you. Learn to keep your messaging short.
Focus on your buyer and find ways to pique their curiosity. This is the number one way to finding quicker opportunities for your buyers and you – hear what it is they need – that they are challenged with, that they aspire to, and offer solutions.
Work your territory as if you are the CEO of it. Create a plan and run your territory like a business.
Don't wait for your sales manager to inspire you. I can tell you from firsthand knowledge, you have to learn how to motivate and inspire yourself. Set big goals – put a photo of that house you want to buy, or that house you want to pay the mortgage off on, or that car, boat, or kid's education. Compete with yourself – if you set 3 meetings last week, work to set 5 this week. If you do that, reward yourself with something small but meaningful. If you normally bring your lunch, go out instead – or award yourself points that go toward a new technology purchase for you.
Believe in yourself. No one else will believe you if you don't believe in you first. Sound like a professional talking to another professional as you call c-level executives.
Believe in the products and services you represent. If you don't believe in them, you should work for another company whose products and services you DO believe in. It is that simple.
Work within systems and processes – use your company's CRM system and know what the steps are for making a sales opportunity come to closure. Have a safe place to put valuable knowledge you learn about your prospective buyers. Come in every morning ready to go- every minute counts.
At the end of each week, review. Since your job is to SELL, ask yourself what you have done that is leading to conversations about potential opportunities that will turn into revenue. If you go for weeks not having valuable conversations with "net new" buyers – you are NOT doing the job. Consider moving into an account manager role or other role if you cannot get the basics down to bring business to closure.
Have fun. Life is short. Work with awesome people and companies that are doing great things. I once gave up a month of my life getting "re-trained" by a company that bought a company I worked for – within the year, that company that bought us went out of business. I wasted valuable time away from my family, and as a single mom, that was a big mistake. Looking back, I realize a good company probably would not have put me through that in the way that they did without flying me home for the weekends or other arrangement more appropriate for a head of household.

Lori Richardson is recognized on Forbes as one of the "Top 30 Social Sales Influencers" worldwide. Lori speaks, writes, trains, and consults with inside sales teams in mid-sized companies. Subscribe to the award-winning blog and the "Sales Ideas In A Minute" newsletter for sales strategies, tactics, and tips in selling. Increase Opportunities. Expand Your Pipeline. Close More Deals.
email lori@scoremoresales.com | My LinkedIn Profile | twitter | Visit us on google+