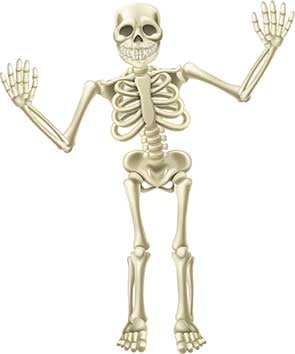 This is a seasonal prospecting idea - good from end of September until Halloween. If you want (or need) a fun boost, which many SDRs, BDRs, AEs and others who call buyers could use – try the Skeleton Strategy.
I have posted about this before, and it has been so effective over the years that I've updated it. This is for that important buyer you cannot reach – by phone, email or through social platforms. It works best if you HAVE reached them once or more before – but they are not getting back to you now. With that said, I did a sample a couple years ago with new prospects and a group of five SDRs got a 33% response rate with 90 mailings.
Sure, it's very possible your buyer just really isn't into you - or your products and services.
On the other hand, they just might be really busy and need a gentle reminder that you can help them solve their issues or help them accomplish something they want and need in their career or company.
The month of October - and especially THIS week is a great time in North American B2B sales teams to put the SKELETON STRATEGY into place. I use this tactic every couple of years to see if it still works - which is has for many years - and as of Oct 2020 - it still does. This year I sent out 10 notes with skeletons and got a response back on eight from hard-to-reach decision makers. That's 80%! It is a fun idea and hard for anyone to get irritated by. Typically they show it around the office - in the case of 2020 during the pandemic, it became sharable on LinkedIn through my prospects showing the card I sent as well as the skeleton.
One of my decision makers I just reached said they gave it to THEIR sales team to try.
The Skeleton Strategy requires OLD SCHOOL supplies:
an envelope
U.S. postal stamp (they are 55 cents now in case you haven't bought one for a while)
a note card - if you have one with your company logo that is the best
and an item you get from Amazon or Online Party Store - a small plastic skeleton. Make sure it is a "friendlier" looking skeleton rather than a scarier looking one.
Get out your pen and in your best handwriting, write out:
[name] -
this is me, trying to get in touch with you
Wishing you a Happy Halloween
Feel free to send me a sign that you've received this - otherwise I'll call you next Monday.
Thanks!
Lori (617) 999-9999
Include the plastic skeleton. If you have swag, like a sticker or pen or notepad w/ logo, add that in too.
Anecdotal research in the last 5 years proves that it gets about 30-80% response - either a call right away from the buyer (especially if you have talked before) or they answer (or reply to your next email) on the next contact.
Have a couple of questions ready - the questions must be something that can add value for your buyer or get clarification about timing to move forward. One of them could be this:
"When we last talked, you seemed ready to move forward and then I didn't hear back from you. Did something change since then?" - That one question can solve a buying mystery for you.
This is a fun thing to do now to potentially salvage a stalled opportunity and since it is light-hearted, most people think it's funny or at least not offensive - which is very important. It becomes one more "touch" with your buyer.
If you know them well and you know they are just extremely busy or focused on other things, you can also try sending the image with the message (or create an image in Canva) through Twitter for them. If you are not sure how they will receive this, go ahead and put it in the mail the last week of September or anytime in October.
They just need to receive before October 31st. Ideally it his mid-October when talk of Halloween is happening and your receiver might want to share socially - more visibility for you.
What other way can you get a light-hearted note during a fun season here in North America to your potential new customer?
Let us know your success rate – and have a fun month of October!
---

Lori Richardson is recognized by LinkedIn, Salesforce, Forbes and others as one of the top sales influencers worldwide and she hosts the award-winning podcast, "Conversations with Women in Sales." . Lori speaks, writes, trains, and consults with sales leaders in mid-sized companies. Subscribe to the award-winning blog for sales strategies, tactics, and tips.
Increase Opportunities. Expand Your Pipeline. Close More Deals. Develop Sales Leaders
email lori@scoremoresales.com | My LinkedIn Profile | @scoremoresales |