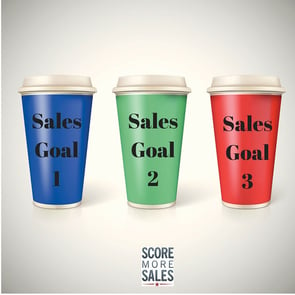 Have you heard about SMART goal setting? It is one of those acronyms in business and school that's been overused and never fully resonated with me.
Why set goals in the first place?
Earl Nightingale, respected speaker and author on motivation and personal development, said "People with goals succeed because they know where they are going."
SMART goal setting is supposed to be a strategy that helps you make your goal more actionable, do-able, and easy to see if you are on track.
Specific
Measurable
Achievable
Realistic
Time-bound
The sales professionals I have worked with over the years never resonate (nor do I) with the "achievable" part or the "realistic" piece. If something is achievable and realistic, isn't that just an item for your "to-do" list?
Forbes contributor and author of HARD Goals, Mark Murphy wrote a great post called SMART Goals Can Sometimes Be Dumb. He takes the same point of view as I do about the "achievable and realistic" part.
The method I use for goal setting and attainment is called CCUPS:
Clear
Concise
Uncomplicated
Push
Shared
To be successful you first must be CLEAR and CONCISE. What specifically do you want to accomplish? Some examples are:
Break your own record for the number of quality conversations with buyers in Q1. (specify what that is)
Over-achieve your quota by "x" percent to qualify for your company's Presidents Club.
Simplicity is EVERYTHING in selling.
So make it UNCOMPLICATED. Not like your comp plan….
PUSH – make it a push, NOT realistic – but a big stretch. It can be attained, IF the stars align and YOU keep your focus.
SHARED – tell someone, tell everyone, or simply post it at your desk where you'll see it. Some people also post in their car or in their bathroom at home.
• Read up on goal setting.
• Read success stories.
Use a system like Goals on Track. Or write in a . There are so many ways to do it, the question really is IF you WILL do it?
What goal would YOU like to accomplish this year?
Share with us @scoremoresales on twitter.
---

Lori Richardson is recognized on Forbes as one of the "Top 30 Social Sales Influencers" worldwide and is a Top 25 Innovative Sales Blogger. Lori speaks, writes, trains, and consults with inside sales teams in mid-sized companies. Subscribe to the award-winning blog for sales strategies, tactics, and tips.
Increase Opportunities. Expand Your Pipeline. Close More Deals. Develop Sales Leaders
email lori@ScoreMoreSales.com | My LinkedIn Profile | @scoremoresales | G+