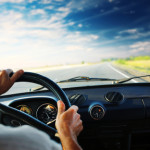 How could selling, customer service, cold calling, brand-building, and sales strategies have anything to do with our recent drive across the U.S.? Plenty! As sales strategists we look at interactions with a keen eye- how did we communicate to another, and how did they communicate back to us? If they are representing a business, which nearly everyone we came in contact with on our drive was, how did they represent?
As often is the case, results were all over the spectrum of what you would call "amazing" customer service to "unbelievably poor".
How many people do you know who can immediately bring a company to mind where they say emphatically, "I'll NEVER work with them / recommend them / go to any of their hotels again!".
Using our non-scientific approach (just relating OUR experiences from 7 days on the road) we found some real dogs and some real standouts that deserve our recognition today.
The Dogs (You want to know who let us down, right?)
We won't name names here - but we will share some scenarios - because of such MISSED opportunities by some people we engaged with - we don't want others to miss the same, basic opportunities.
Hotels: We stayed at a different hotel each night as we drove 8-10 hours per day. (hint: we were really TIRED when we arrived each night.). We found middle-of-the-road hotels (not highest end but nice places) and either booked ahead or showed up at the desk after seeing what the best on-line rates were. We don't want to pay more than someone else walking up to the desk.
Each morning, we'd do "old school" check-out at the front desk to see if there was any effort for them to capture a new customer or at least encourage positive comments online, and to see if we were thanked for our stay. Amazingly, we were never asked how our stay was, nor how we heard about them, and were never asked about posting favorable comments on Yelp or other sites. There were no signs at any of the front desks to follow their brand on social media. We were really surprised, since we were staying at "name" brand hotels. Grade: D - so many missed opportunities to get US to post and talk up any of these brands and businesses.
Restaurants: Since we brought a cooler with us, we only made quick food stops. In states with lower populations and fewer towns, this meant we'd see McDonalds probably more than any other brand, and we stopped at two different Mickey D's to quench our coffee habit. It is not our normal haunt, but were pleasantly surprised. We looked for Subway sandwich locations since they are pretty consistently fresh and good, but not always as we found. We also looked for good, quick local restaurants rather than chains - and did pretty well. The only chain we ate at called Cracker Barrel did ask us about our meal but did nothing to build their brand with us online or in-person.
Gas Stations: We spent quite a bit for gasoline - bought it every day - and again were struck by the lack of any brand-building opportunities at these stops. We think there could be something on the receipts to go to the gas brand's website for a coupon or for their social media locations.
Auto Dealer: We had a repair done at a Ford dealership in South Bend, Indiana. I was there three hours before anyone said anything to me - hello, how are you, etc. It was a disappointment, although they did fix the car issue. You would think some smart sales person there would even ASK us if now is the time to get a new car - especially since we will be doing that soon.
The Winners (drumroll, please!)
A few brands stuck out in our minds that we'd love to share and recommend:
Ford - We have mixed feelings about the local dealers, since a cold call into one could not have been less helpful, one was fantastic, and one was OK... but the Ford Company folks manning the @FordCustService (on Twitter) were our lifeline when we had a problem with an ongoing "service engine" light that unexpectedly came on twice during the trip. Good news is that we didn't end up like so many others we saw - on the side of the road... and @FordCustService worked better than any 800 number to help direct us to another dealer when one was not interested in helping us on a Friday afternoon ("we're already booked," this dealer said about their service department). We think that Ford wants dealers to help stranded Ford owners across the country - that is part of their consistent brand. When we told them this happened, they quickly told us about the only other dealer we could go to nearby. Thanks, @FordCustService.
Wheat Montana - I did a check-in on Facebook while at Wheat Montana, an amazing restaurant / store in yep, Montana - and must have liked their FB page when I checked in.
Today when I looked them up on Facebook, a conversation box appeared on their Facebook page that said: You have been to WHEAT MONTANA FARMS & BAKERY, share your experiences with your friends. [THAT is what we are talking about on brand-building]
Starbucks - We loved the wi-fi in every store and consistent brand and great product/service
Cool Beans - an awesome coffee cafe in Madison, WI. Our Garmin was supposed to take us to Stabucks at that highway exit - so glad it didn't.
Nordstrom - We hit Minneapolis, home of Mall of America, on the last day of the Norstrom Anniversary Sale. It was a great distraction from the drive, and my shoe salesman, Mike, who has been with Nordstrom for 16 or 17 years, was totally amazing. He helped make us forget about the drive we had so far. Isn't that what good sales and customer service is SUPPOSED to do? Thanks, Mike. We hope you get recognized for this.
Harley Davidson - We saw them from the west coast to the east coast - always located near the main highways, with their awesome, consistent brand plus nice big lot, building, tower, and events going on.
What brands stand out when YOU drive around locally or on longer trips? Who else is a dog or a winner in your book? Who is doing social selling and social, in general the right way (and building customers?)