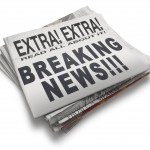 The minute I saw the email from Social Expert Mari Smith I knew it. The second I clicked through to one of the newly-launched Social Media Mags it hit me like a brick: publishing will never be the same again, and selling /marketing /brand building will be changing even more.
It is all about being a good visible publisher with great content - to defy the noise all around and to find your next prospective clients as you build your business or grow your mighty cause. Publishing is not the future, it is now.
Just back from the Sales 2.0 Conference in San Francisco where we heard more of the same - you need great content to grow business and claim your spot as more than just a thought leader - but a part of a brand with all sorts of products and services of value. Your company needs others online talking about the great work that you do.
How to do it? Success leaves clues. Start researching the new wave of publishing - those organizations who are creating content that is easily viewed, engaging, and that drives you further with their offerings. I'm a new raving fan of GSG Publishing- of which Mari Smith is Executive Editor of one of their new publications - Fb & Business Magazine. It's easy to read, builds their brand, helps me as a reader, and is a great viewing experience.
[special note: Mari Smith also has a brand new book you NEED to buy. Visit her beautifully done trailer about this new book - The New Relationship Marketing - and you can see why I, and tens of thousands of others think so highly of her. Brilliant, Mari]
Conventional print newspapers and magazine publishers need to get on the bandwagon - it is not a snippet of your magazine we want online, we want the whole thing. It should not need to cost to see it - but rather, like old school magazines, will lead readers to other revenue sources. It should be well laid-out and easy to read.
How is your small business (or large business) publishing coming? Do you have someone feeding you content for your brand, and is the sales team getting links your company is publishing to share with prospective customers? Since prospective buyers making their choices online about who to call or contact well before you even know about it, are you giving them enough information to make their short list? Now is the time - where is your content and offers?
For starters, see what Hubspot is doing, if you have not already. Spend just 21 minutes every day from now on to learn how you can convert what you have been doing by phone and in person to share with the rest of your prospects - the ones you will never hear from (unless you start getting out there more).
Look at sites that will create content for you and with you - no longer do you need your marketing department to do it all. Get creative and find others to work with you in this effort.
Grow business in 2012? This ONE idea will grow your business. Are you ready?
Lori Richardson is the B2B Sales Detective - she writes and speaks about B2B business and helps inside sales teams grow revenues. See her live at the AA-ISP Conference in Boston on December 1, 2011. Visit Score More Sales for our newsletter with tips and ideas to grow revenues now, and follow her on Twitter and Facebook.