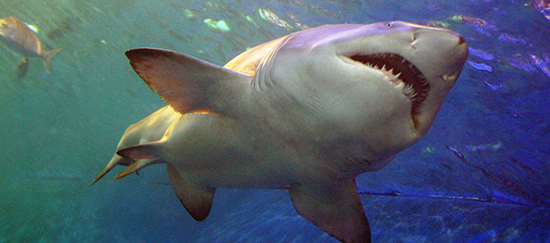 If you want to learn how to hone your value proposition and how to close deals, you should watch ABC's Shark Tank. It is a laboratory to demonstrate what to do and what not to do in gaining an investor which is very similar to how you can gain a new customer.
You explain the value, share your passion, show what the product solves and put an ask out. Simple, right?
Yet many in the tank fail because they don't show enough value, their product doesn't really solve an issue, they don't have enough proof of success, or they just present poorly.
Joe Wilcox of Sway Motorsports had a unique challenge on Shark Tank this week. He has worked over a number of years to create a three-wheeled electric scooter. It has a patented linkage design, making it different from any others out there. It sways to help maneuver corners. It is very cool.
Most of the sharks had smiles on their faces during the presentation, but one by one, they opted out of funding him. Most felt his company valuation was way too high.
Eventually, he had a chorus line of, "I'm out" – the famous line the investors give when they don't want to invest in the current presenter's product.
He was done. Exit studio left.
After the last "I'm out" Mark Cuban gave him a bit of a pep talk, saying that sometimes presenters in the Shark Tank come back and that he has a great idea, and he would be a customer.
GoPro founder Nick Woodman also chimed in to say that he thought everyone of the Sharks would be a customer and they all liked it.
He was supposed to say "thank you" and walk out – but he didn't.
Instead, Joe took the round of "no's" and once he heard Woodman and Cuban praise the idea, he said to the Sharks –
"Then why wouldn't you invest?"
One Shark was about to let him know he was "too late" – and they were done – but then,
Mark Cuban looked at Joe and said, "So make me an offer……"
Dead silence.
Rather than 10% equity in the company, Joe quickly thought and offered 20% for the $500,000 investment.
Dead silence.
Within seconds, Cuban replied, "DEAL."
How did Joe go from being totally shut down to getting a deal?
He didn't let the "no's" shut him down. He knew he had interest, and he knew he should have an investor from this group. He'd worked hard.
Joe asked an uncomfortable question when it was expected for him to walk away.
He was able to think on his feet.
That's why Joe won and got Shark Tank funding.
Some of the best deals happen when the buyer says "no".
Don't let a "no" in business shut you down.
What deals did you walk away from this quarter because you got "no's"?
Revisit some of the opportunities you talked to prospective buyers about from the last year. What deal should have happened, and why can't you revisit one of them?
You can.
Watch the Shark Tank episode 29 and see it for yourself.

Lori Richardson is recognized on Forbes as one of the "Top 30 Social Sales Influencers" worldwide and is a Top 25 Innovative Sales Blogger. Lori speaks, writes, trains, and consults with inside sales teams in mid-sized companies. Subscribe to the award-winning blog for sales strategies, tactics, and tips.
Increase Opportunities. Expand Your Pipeline. Close More Deals.

email lori@scoremoresales.com | My LinkedIn Profile | twitter | Visit us on google+