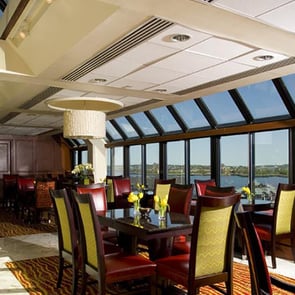 It is always good to see great sales skills in action.
While in the Concierge Level Lounge of a Marriott hotel recently, I saw a woman from the Marriott walking around and striking up conversations with guests. She was polite and friendly, getting everyone she approached to interact with her.
Last year I held an event at a major brand hotel in Chicago. The venue, service, and experience were phenomenal – except for the billing issues at the end. There were so many issues, I swore I'd never work with that venue again.
I attended another event at that hotel six months later – and it struck me funny that here I was, able to book another large event – year after year - and was staying at the hotel for several nights – and no one in the sales department reached out. Don't they get data about when guests are at their hotel? If not, this is an excellent use-case for big data. What if their head of sales had simply sent me a note - "It's so great to have you back" - or invited me to meet.
Basically the bellmen and concierge knew me better after a few days than any head of sales or one of their sales reps for that hotel.
It's a shame – a wasted opportunity, and such a low cost way to reconnect with me – the buyer.
Back to the Marriott Lounge – the woman was Stephanie Gavin, and her title is Destination Sales Executive. What I witnessed her do was amazing.
Among several people she spoke with, she approached a busy-looking guy in a suit who probably would not have spoken to anyone had she not engaged him in a low-key conversation. Within 10 minutes, she (and I overhearing) had determined that this "guy" was a new CEO at a billion and a half dollar company. He was commuting between home in another city and work here in Boston until he and his wife relocate.
Stephanie asked this gentleman questions about his stay, and he shared an issue I didn't totally catch but heard she would pass his feedback along to the manager.
Wow – Stephanie called on a CEO and had a 10 minute meeting with him before 8AM that day.
Where are YOUR buyers?
• Can you walk around – or visit with them in person occasionally?
• Can you find them online and engage them?
• Can you send them an email or talk up their company on Twitter?
Selling today is about being creative and going where your buyers are.
Don't wait for them to reach out to you.
I'm looking for an event venue for next year, and that hotel in Chicago has forgotten me. Stephanie reached out to me next in the lounge. I have a feeling she will not forget to follow up.
Think about 5 ways you can be proactive with your buyers - do it today.
---

Lori Richardson helps mid-sized companies grow revenues by solving key issues in their sales department - like recruiting, retention, diversity hiring, process, pipeline and leadership. She speaks at CEO groups on topics of sales growth. Clients include companies in the technology, telecom, manufacturing, distribution, and professional services industries. Subscribe to the award-winning blog, follow her on Twitter
Increase Opportunities. Expand Your Pipeline. Close More Deals. Develop Sales Leaders
email lori@ScoreMoreSales.com | My LinkedIn Profile | @scoremoresales | G+