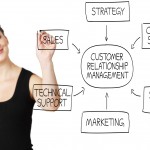 Having a sure-fire repository, or "catch-all" place to help support your business growth was the original purpose of a CRM system quite a few years ago. Over time, new capabilities have been added and in some cases, really perfected to offer data intelligence (assuming the field reps all are keeping it updated). Exciting enhancements are on the horizon are new tools to work with CRM and Social CRM to bring knowledge TO the user, rather than the user doing all the thinking and pre-work.
My pet peeve for the longest time is that many small and midmarket sized companies, many doing millions of dollars per year in services business do not use consistent process and often a consistent CRM system in their company. They cannot do simple reports to determine the cost of a closed deal this year as compared to last year, and they often don't know what is fully in the pipeline of each of their sales reps. Unbelievable? For those of you reading who do have a fully functional CRM or SCRM system you may find it hard to believe, but I see it and hear about it nearly every day.
Let's look at an old definition, the challenges with CRM, and some predictions for 2012.
Definition: "True CRM (customer relationship management) brings together information from all data sources within an organization (and where appropriate, from outside the organization) to give one, holistic view of each customer in real time. This allows customer facing employees in such areas as sales, customer support, and marketing to make quick yet informed decisions on everything from cross-selling and up-selling opportunities to target marketing strategies to competitive positioning tactics" – source: Destination CRM
In 2011-12, the addition of "social" to CRM (SCRM) integrates social tools to help business gain key insights from prospective and current customers in some orderly format. The SCRM market is valued at over $1B according to Gartner.
So what is next for CRM? We talked with Gartner's CRM Research Director Adam Sarner. He definitely has a wait-and-see attitude on the social component of CRM and gives us a lot to mull over and discuss over the coming months. Here is some of what he had to say:
"During the next two years, the success of social CRM will depend on how well companies and social CRM technology providers can accelerate through the inevitable disillusionment (i.e., "the social apocalypse"), and make social CRM projects more than just social objectives by tying them to clear and measurable business objectives."
Gartner's assumption: "By year-end 2012, only half of Fortune 1000 companies will receive ROI from their social CRM initiatives."
I'm a bit stumped because of all the ROI that I have seen so far - in particular from the Fortune 1000 who are brands (B2C) who have some incredible stories to share tying social to increased revenues. We are actively looking for B2B company success stories (if you know of any, please forward me information.)
Gartner's Key Findings:
"Social CRM is still an immature market, with new and evolving strategy, technology and use cases still developing. As occurred during the dot-com boom of the 1990s, many companies have responded to the hype around social CRM by merely establishing a form of a social presence. Many client inquiries about social CRM revolve around companies who do not have a clear business performance objective for social CRM, rather they are still "getting their feet wet" when it comes to actual measurable business outcomes. In a recent Gartner survey of social CRM vendor references, fewer than 60% were measuring for ROI."
Market Implications:
"ROI, measurable business value and budget justification for social projects are quickly becoming unavoidable topics for many organizations, particularly in more social-adopted industries such as high tech, media, retail and travel. Social data such as the number of fan pages, delta of weekly tweets and even areas such as sentiment analysis are not enough to correlate with the contribution of top business objectives, such as churn rate, new qualified leads or sales increases.
Unfortunately, for the 50% of organizations not determining or even measuring for ROI, ignorance will mean unfunded/failed projects. Of the 50% of companies who will not see a return, only 20% will even have the data to evaluate where their social strategy is falling short. These organizations will be unable to justify future funding. By year-end 2012, 75% of new social CRM initiatives that successfully receive funding will have a business case incorporating measurable ROI."
Recommendations Based on the Survey, Sarner continues:
"Define your social strategy in alliance with your CRM strategy. A social CRM strategy should benefit marketing, customer service, sales and e-commerce.
Leverage similar KPIs, such as website conversion rates, product and service time to market, and sales lead close rates to determine social CRM's ROI.
Encourage focused, experimental use of social applications, which can unlock benefits, but set a timeline for observing direct business value before signing a long-term agreement with technology providers.
Audit your social CRM projects against mutual benefits — what's in it for your company, and what's in it for the community? If you cannot clearly identify benefits for both, or if it is too unbalanced, the project will fail."
CRM initiatives have been difficult for quite a number of under $30M/year revenue companies in the mid-market to put into place because of the integration myths / fears and because of the initial costs – not just for monthly subscriptions but for data cleansing, updating, and the fact that change can open up all sorts of cans of worms. Is there ever going to be an easier way for companies to get data about their key contacts? We are getting closer and closer to that being the case. Experts predict new systems soon that help integrate a user's contacts into their CRM system . What is great about this is that soon, it may not be just up to me to set a next action, but in fact, I may get an inquiry from one of these new services that asks me if I have followed up with someone. It also might let me know that there is someone else in my contacts who fits a similar profile of another prospective customer. This is the point where tools could really help the average small or mid-sized businesses grow.
It will be interesting to see what shapes up and how market share leaders in CRM as well as up-and-comers solve the ongoing big issues around CRM implementation, adoption and usage – and get systems in place to really help businesses analyze, tie in with social, and allow better opportunities for sellers.
QUICK Immediate Tips:
1) Make sure you have a robust corporate page set up in LinkedIn.
2) If you don't have a social media policy in your company, now is the time to create one
3) Learn what others in your market space in B2B are doing for social, and for CRM in general.
4) Stay tuned for more, as our discussion continues!

This post was written as part of the IBM for Midsize Business program, which provides midsize businesses with the tools, expertise and solutions they need to become engines of a smarter planet.
Lori Richardson writes, speaks, trains, and mentors company leaders on tactical ways to grow revenues. Her company, Score More Sales helps with systems, lead development, and prospecting for technology and financial services companies. Sign up for the award-winning blog for tips and strategies in selling.