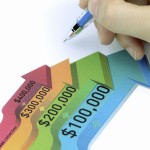 A new calendar year always brings the possibility of discussions of business process improvement and in particular, sales process improvement. There are lots of reasons for these conversations – many companies annually have them as part of their growth plan. Others have them because of a specific challenge they are facing:
Our Company Has Lost Market Share – A competitor (or competitors) is/are swallowing up our clients (in this scenario competitors are known and it is a fairly clear situation)
Sales are Down or Flat and Need to be Bigger – Our sales are lower instead of staying on our growth path. The economy is bad, so that makes sense, right?
Turnover of Sales Reps Meant Lost Sales Knowledge – We lost our top rep to another industry. He walked away with so much internal knowledge of how things are done and who to call on.
Our Sales Cycle Needs to be Shortened – It is taking too long to close deals now – an average of XX days/ weeks / months.
New Sales Reps Need More Guidance on a Process and Methodology – We brought on a new sales rep (or created an inside sales team) and nothing is documented – everyone around here seems to do something different. Doesn't that impact sales?
People tend not to focus on the cloudy issues behind some of these problems. Each of the scenarios above offer many questions behind the scenes since using a sales methodology along with processes to run the business is just one part of the equation. Because we are dealing with people we need to also understand that sales results are affected by things beyond process and methodology.
Sales people and marketers are human. They need to be nurtured and they need clear guidelines for success. In addition to guidelines they need professional development because no matter how good they are – they will sometimes question their confidence and they will not always be confident of your products and service offerings which also plays a hand in determining their (and your) sales success.
So care about your team. Nurture their strengths, acknowledge their successes. Work on skills development. We'll talk more about that in future posts. For now, though, let's assume you are doing this and have an amazing team. How can our earlier scenarios improve with tools?
By using a newer generation CRM system you can get these results. How many do you have now?
Automated reports for territory management, sales rep management, forecasting, and on customer interactions (these are just for starters)
Tracking communication between us and our prospective customer as well as communication within the silos of our company. Is everyone on the same page? (hint: grow sales by reducing friction and sharing knowledge within your company)
Keeping track of (or updates to) customer financial activity within your CRM system will allow for smarter business decisions and greater flexibility.
Trendspotting – Its easy to know that XYZ Co. places a huge order every January, but by using a CRM system you can pull reports that show things you many have never noticed, such as weather-related trends or news-related trends. Are you aware of ALL trends in your business?
When it comes to shortening your sales cycle, certainly process will be helpful but I'd also look to the skills and knowledge your team has and see if there are some quick wins that could be made in terms of tightening up your value proposition or watching and listening to your team to see what they say, what they e-mail, who they talk to, and how often they follow up. These are basic sales skills that when implemented well can shorten your sales cycle. Get a professional to help you identify what potential issues are and do some trials to see if your (and their) hunches are correct.
Finally, the idea about cataloging and archiving as much institutional knowledge as possible is a big idea but worthy of your time to discuss. Your company information – about prospective customers, existing customers, internal processes and shortcuts should not reside in the brains of ANYONE without being documented somewhere in the business. At a minimum, make the next 12 months a time where you find a system to document and archive the important areas of the company – prospects and customers. Document how we gain new customers and what specifically we do with and for them to keep them as customers. This institutional knowledge is often referred to as a Sales Playbook, and consists of information about our products and services, the competitive landscape, clarity around who we sell to, our value proposition, and all sorts of best practices within the business. Like an athlete's playbook, a new rep (or CFO) can get up to speed with the most important information outlined – the rest – also very important, is what is culled by talking with each of the most successful folks in the company over time.
What are your business challenges and weak links to growing more revenues next year or in shortening your sales cycle, or in raising your closing ratio? Determine how you can benefit from people, process, tools, skills, and a little inspiration. This combo is a winning strategy.

This post was written as part of the IBM for Midsize Business program, which provides midsize businesses with the tools, expertise and solutions they need to become engines of a smarter planet.
Lori Richardson writes, speaks, trains, and mentors company leaders on tactical ways to grow revenues. Her company, Score More Sales helps with systems, lead development, and prospecting for technology and financial services companies. Sign up for the award-winning blog and the "Sales Ideas In A Minute" newsletter for tips and strategies in selling.