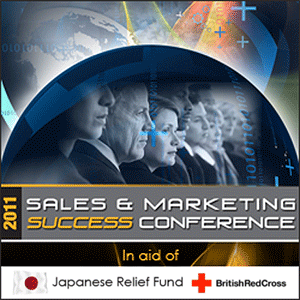 Presented at: 1:30pm - 2:00pm PACIFIC (4:30-5:00 Eastern)
Please join us on Thursday May 12 - that's this coming Thursday, to hear some helpful points on ideas on sales prospecting with fun in mind - AND at the same time you will help raise funds for the Japanese Tsunami Relief Fund with your %5 donation.
Please read my friend and colleague Jonathan Farrington's heartfelt blog post on why he organized the most ambitious online sales conference in history- bringing together 35 of the biggest names in sales and marketing.
The price of this webinar is just $5.00, and all of the proceeds go to the Japanese Tsunami Relief Fund. I guarantee you will get some value from it - if only to remind you of ways you can have more fun, energy, and focus when you prospect.
I look forward to seeing you there! Attend other sessions too - you'll feel good for donating AND you'll learn a lot from my amazing colleagues.
Read my previous post here
What are the top 3 ways to have fun while prospecting for new business?
What resources can help me enjoy the actual activity of prospecting for new business?
What is the "secret sauce" to growing sales on an ongoing basis?
How can "the other list" that I track help me grow more sales?
How can prospecting and follow up be considered fun in anyone's eyes?