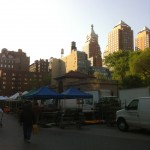 Spending some time in New York City might not seem like the place to get inspiration about customer service, but my experience is almost always inspirational.
The conference I'm attending is for women entrepreneurs and is a very nurturing, energizing event - going against what I was ever told about coming from a small town to "big NYC".
When I got out of a cab this morning, the cabbie had stopped in the middle of the street (ok, he was busy talking on his cell phone and that wasn't an inspirational customer service event). Another cab was behind him, patiently waiting to go on this single lane road. The cabbie behind waited for us to get out, then when our cab still sat there, the cabbie behind started honking. Not for us, which was obviously clear - but for the cab. It was a great moment.
Last night, getting food to go, the local pub near the hotel efficiently took the order, then offered a beer while we were waiting. The gentleman kept using our names and made us feel like we were old friends.
Even the Starbucks on Union Square moves people through the line like nothing I've seen - in a friendly, helpful manner - greeting customers by name as they are recognized. Coming from Seattle, this is a big deal, since my now local Boston Starbucks does nothing of the sort.
Here in NYC they know how to make things happen - and the growing companies are treating customers well, with respect, and in a most efficient manner.
What customer experiences have you had in a big city? Share them and you might see your story posted here.
Lori Richardson is recognized as one of the "Top 25 Sales Influencers for 2012″ and one of "20 Women to Watch in Sales Lead Management". Lori speaks, writes, trains, and consults with inside and outbound sellers in technology and services companies. Subscribe to the award-winning blog and the "Sales Ideas In A Minute" newsletter for tips and strategies in selling.