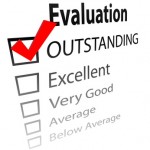 Why not excel if it takes the same amount of energy to be average? OK, so it takes a bit more than average to be exemplary in your inside sales position, or your outbound sales position. Bottom line is that you will be expending effort anyway - why not push a bit further to stand out and differentiate yourself?
Dictionary.com's definition:
me·di·o·cre
[mee-dee-oh-ker]
adjective
of only ordinary or moderate quality; neither good nor bad; barely adequate
So how can you stand out in the crowd and differentiate yourself, your products, and your business? Start with the opposite of mediocre: extraordinary, superior, uncommon, incomparable.
Extraordinary: Have product and services offerings that are amazing and full of value. If you are working with products and services where you have little flexibility, then you need to focus on setting YOURSELF apart from the rest of your industry counterparts
Superior: Be superior in all that you do - in your commitments, your communications, and all of your actions. Even with an old-school company or one that offers you little differentiation YOU can make a difference and become memorable.
Uncommon: You stand out or your products and services stand out. When both you AND your products / services stand out you have the ultimate advantage. Peter Shankman of Vocus stands out as a conference speaker because of his storytelling and in connecting to the audience. He uses his mistakes as well as his successes to encourage those he is in front of to build a great brand. That doesn't mean he is not outspoken. I don't agree with everything he says, but truly, he is a valuable presenter on topics around business building, marketing, and differentiation.
Incomparable: First you need to know how to pronounce it! inˈkämp(ə)rəbəl
Next, try to be it. When what you do is so different than those in your niche or your industry, you totally stand out above the crowd, and people hear about you through word-of-mouth. Steve Jobs was incomparable. as are Apple's retail stores. Feeling like business is down and you want to feel better? Go to the Apple store at your local mall. It's crazy busy and people are throwing around money. [Note: you may not immediately feel better, but you will see that the roadblock of a "bad economy" is not slowing down many brands and businesses - so you'll get back out there and grow your own business.] Even their tagline is awesome: "Come to Shop. Return to Learn."
We'll be posting thoughts for the next 30 days about rising above average in sales. We'd certainly enjoy your thoughts, stories, tips, and tools to help others stand out in the crowd, above the noise, and in amazing ways.
Lori Richardson speaks, trains, and mentors inside sales professionals as well as all sorts of B2B sales teams and business leaders to grow revenues. She takes a tactical approach. Learn more at Score More Sales where you can sign up for an extraordinary blog with quick tips to grow sales.