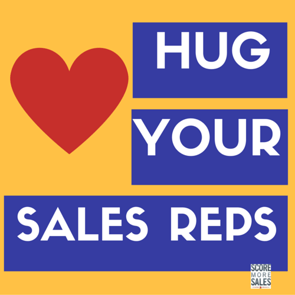 I immediately liked what I heard when John "JT" Turner, Senior VP, Sales, Trinet spoke. It was an Enterprise Sales Meetup in New York and the "fireside chat" format enabled John to discuss his views on selling.
What struck me is that I don't often HEAR sales leaders show so much respect for the profession of sales and for the reps themselves.
If YOU are a sales leader, YOUR JOB is to support your sales reps. Not compete against them, not give up on them – but SUPPORT them. Help them succeed. If it is anything other than that, you may need some outside help to create a more supportive environment or rid yourself of a renegade rep. If you are a leader who lacks the skills to lead, you need to get help to develop those skills.
When John Turner spoke at the event, I realized he was speaking my language:
He has great passion for sales
He loves salespeople
He believes sales is a craft
He's a hugger
He loves to hear background stories of salespeople
He shared one – the receptionist in the NY Trinet office is now a top sales rep and heading to President's Club.
Sales is the lifeblood of the company.
Sales is HARD. Help support reps to succeed.
Sales is a profession – an admirable profession.
John, a former banker, now helps build championship sales organizations and has had great success at Trinet.
John really had me when he said that it breaks his heart when one of his reps quits in the first year – because they didn't have enough of a chance yet to develop and adapt.
I can't remember the last time a sales leader used the phrase "breaks my heart" – including 4 women in sales panels I've moderated lately. Loved hearing it because as sellers, we DO often wear our heart on our sleeve. The great sellers bring heart every day to their work. They bring passion. If you as a sales leader don't recognize and nurture that, you'll help them turn into heartless sellers.
Since I mentioned the women in sales panels I've been moderating for Salesforce.com, I thought it a good time to mention that John says all his top performers (on a 60 person sales team) are women. While he says there are not a lot of women in sales at Trinet, their onboarding program currently is made up of 50% women.
Help Reps Succeed
One of the things they do at Trinet to help reps be more successful is have a one-page document called, "How to Get an A". This way it is clear what his and the company's expectations are so that what reps do every day aligns well for success.
John suggests that leadership encourage sales reps to find mentors – you don't have to ask someone to be your mentor – instead, just grab them and ask for help in one area
Don't be afraid of failure. He recommends watching this TED talk The Unexpected Benefit of Celebrating Failure with Astro Teller, formerly of Google X.
So if you're a sales leader, or company leader – hug your sales reps. It doesn't have to be a physical hug, but it needs to be a "look them in the eyes and tell them you understand how hard their job is" look, or it can just be a few words from the CEO / president of the company.
Sales IS the lifeblood of your organization. If you have reps who are doing a good job, encourage them. If you have reps who are failing and just don't get it, help them find something else to do where they can succeed.
You can see the recording of the conversation livestreamed here.
Learn more about the Enterprise Sales Meetups here.
Need to check the health of your sales force?
---

Lori Richardson is recognized on Forbes as one of the "Top 30 Social Sales Influencers" worldwide and is a Top 25 Innovative Sales Blogger. Lori speaks, writes, trains, and consults with sales teams in mid-sized companies. Subscribe to the award-winning blog for sales strategies, tactics, and tips.
Increase Opportunities. Expand Your Pipeline. Close More Deals. Develop Sales Leaders
email lori@ScoreMoreSales.com | My LinkedIn Profile | @scoremoresales | G+