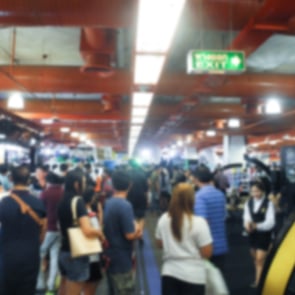 When you are in professional, B2B sales and go to a lot of business conferences you see a lot of trade show booths and marketing tables. These tables and booths typically have large monitors or big screen displays with whatever SaaS sales tool that booth is promoting.
There are THOUSANDS of Sales Tools – most software companies know that if they can create a service that helps companies sell more, track sales, improve sales, analyze sales – or any part of the sales process – they could great a gigantic and loyal recurring revenue following.
Booths also typically have younger, newer reps staffing them. Sometimes VPs of Sales and heads of Marketing are at these booths and tables.
Think Dreamforce.
Think every-business-event-with-a-sponsor.
Last week I heard a dozen company representatives work to explain what their sales tool does – with one to ten minutes of time.
First off, if you work in the SaaS (Software-as-a-Service) business can YOU explain YOURS?
Can you be SUCCINCT and PAINT a PICTURE for us?
In one minute?
How about five minutes?
In the case of last week, the audience was 42 very strategic referrers who could refer you and your company to hundreds of top sales leaders, heads of marketing, and top C-level executives in North America and Australia.
Could you do it?
I have found in doing the event I host two years in a row that MOST company representatives CAN'T quickly pique the curiosity of the audience. They cannot tell us what their sales tool does without a lot of buzzwords and filler. Oh they can talk, and talk – but they do NOT convey enough to make us say, "Oh, so this is specifically for inside sellers and it helps speed up ____ or improve ___.".
The value in having sales reps be able to do this is that suddenly I'm interested so I'm listening. You've gotten my attention. If I can see a need for my clients and future clients, I will zone in and learn more.
If you are a sales leader, make SURE your reps are armed with a succinct, interesting way to describe what your SaaS service does – I don't need to know everything, you just need to hook me in so I will LISTEN more.
The SaaS reps I am hearing from – whether they are a CEO or a SDR are making these fateful mistakes:
FIVE MISTAKES YOU CAN AVOID BEFORE YOU GET TO DREAMFORCE (or your next future customer)
Saying TOO much. Be concise – share the "what" and make me want to hear the "how"
Being too esoteric. PAINT me a PICTURE. Give an analogy. Share a real customer story of before and after.
Standing in front of a valuable audience without practicing. Be like a pro sports team – PRACTICE.
Dissing the value of the audience – your next sale or referral could be RIGHT in FRONT of YOU. Don't blow your chance!
Forgetting to ask for feedback - Send your main contact an email or pick up the phone and call them to see how they think it went – do they have any suggestions? Learn from constructive ideas for improvement.
If you put MORE effort up front, you will better convey what you do. Think of the possible dollar value in getting your point across versus leaving the audience wondering what it is your product does. It happens all the time. Let's all make a big effort to improve that.
Need HELP?

---
Lori Richardson helps mid-sized companies grow revenues by solving key issues in their sales department - like recruiting, retention, diversity hiring, process, pipeline and leadership. She speaks at CEO groups on topics of sales growth. Clients include companies in the technology, telecom, manufacturing, distribution, and professional services industries. Subscribe to the award-winning blog, follow her on Twitter
Increase Opportunities. Expand Your Pipeline. Close More Deals. Develop Sales Leaders
email lori@ScoreMoreSales.com | My LinkedIn Profile | @scoremoresales | G+