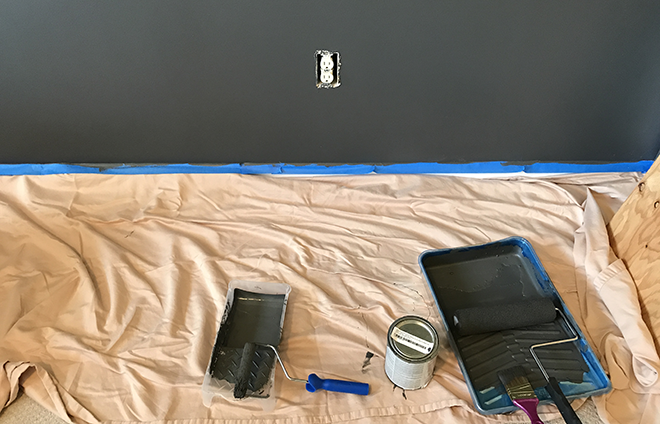 I had the pleasure of painting a wall in the spare room in the house over the long weekend as a backdrop for creating video. Prior to this, we had dark grey colored paper pinned to the wall. Paper is fine as a backdrop until you have humidity. Yea, that's why I decided to paint.
Are you around anyone who thinks prospecting – your regular activities to determine continuous new "future clients" for your company's products and services is easy? Just get a list, reach out through multiple strategies and fill that funnel, right?
Of course, prospecting the right way is not easy, but it is simple – just like painting a wall.
Simple NOT Easy
You buy paint, tape around the area to be painted, get a roller and go!
I thought it would be a two-hour process. That was, until I ran out of paint. The person who sold me the paint told me I'd have "plenty" but that wasn't true. Did I even know what the color of dark grey was that I needed so I could get more? I was in a panic.
I knew I needed more paint because although I got paint on the entire wall, I noticed looking closely that there were places where some of the white paint underneath was coming through. In fact the closer I looked, the more I saw that I needed to go over the entire wall.
It sounds so simple, but things that factor into quality painting of a wall include using the right tools – I had two different brushes, two different rollers, and three containers and pans by the time I was done. It took a lot of touch ups – and several sets of eyes – because mine became a bit blurred by the time I stared at a grey wall for several hours.
Yes it took several hours – over two days. I am crossing my fingers now to make sure it all dries uniformly. I tried to create long brush strokes, but just like prospecting well – it is easy to stop mid-way through for other reasons.
Easy to Stop mid-way
One of my rollers – the smaller one which was easier to handle had string that kept falling off into the paint on the wall – an unforeseen issue. This caused me to have to find a way to remove strings periodically or suffer a wall with texture bumps than when I started.
When you are prospecting, unforeseen things happen. Your value proposition needs to be modified. Your insight on the buyer might not be as strong as you thought. You need more tools.
My advice is to not rush. Understand it takes time to be prepared to get started. Once you start you need to take breaks where you can "retool" and review what you're doing.
Takes Time to be Prepared
If things are working, keep doing them that way. If they are not, then try something different.
I'm a HUGE fan of a multi-faceted strategy for success in identifying the right leads that will become your future buyers. Think phone, e-mail, social, in-person events and mailing a note. Yes, a handwritten note.
Meet your buyers where they are.
Take a look at your process closely to make sure you're not missing spots like I did when I painted. It's never too late to go back and touch up.
---
Lori Richardson helps mid-sized companies grow revenues by solving key issues in their sales department - like recruiting, retention, diversity hiring, process, pipeline and leadership. She speaks at CEO groups on topics of sales growth. Clients include companies in the technology, telecom, manufacturing, distribution, and professional services industries. Subscribe to the award-winning blog, follow her on Twitter
Increase Opportunities. Expand Your Pipeline. Close More Deals. Develop Sales Leaders
email lori@ScoreMoreSales.com | My LinkedIn Profile | @scoremoresales | G+