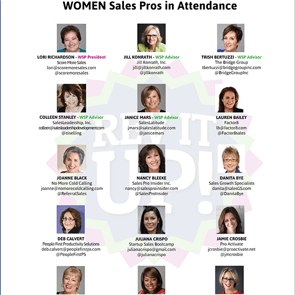 There is no doubt I have been blessed with great friends and colleagues in the world of B2B professional sales and sales leadership. Recently 41 of what some would say are my "competitors" and I got together in Boston for three amazing sales events. (about 1/3 of them are shown in the photo)
Instead of the word "competitors", I most appreciate the phrase "industry counterparts" because that term allows for cooperation, referrals, insight, and collaboration from people in your industry niche. To work with industry counterparts you must fundamentally believe in abundance and not scarcity. With a scarcity mentality you will not feel comfortable sharing with others in your space.
To prove how amazing working with others in your space can be, take a look at the trifecta of extremely helpful events we made happen together recently:
Future Sales Leader Roundtable is a twice-a-year meetup for high potential women in B2B sales roles considering leadership and women early into their sales leadership career. The premise is to help grow the number of women sales leaders in technology, manufacturing, distribution, telecom, and other sectors where there are not a lot of women in sales or leadership positions. By getting this group together, much can be gained through conversations that don't normally happen back at the office. We also have a "speed-mentor" session where women with many years in sales and sales leadership work as sounding boards to the women of the roundtable with questions about succeeding in their role.
Rev it Up – Sales Leader Summit is an annual event for sales leaders with TED-like, short talks on key topics sales leaders can benefit from. This year we covered how to build your sales leader brand, ways to better recruit, onboard, and retain sales talent, creating content to generate Sales Qualified Leads, selling via referrals, building incredible value propositions, and the power of Emotional Intelligence in selling. Most of our presenters were the sales experts of WOMEN Sales Pros, and 1/3 of the sales leaders in attendance were men. That means that 2/3 of our attendees were women sales leaders – at a time when only 13% of sales leaders ARE women (DiscoverOrg Gender Diversity in Sales Report, 2016). How phenomenal to have a leadership event with so many peers to meet and learn from?
WOMEN Sales Pros Annual Conference – A private event for our 40+ sales experts in the community of WOMEN Sales Pros where we seek to learn from each other in small and large groups, activities, meals, and presentations.
I mention all of this because events like this would not happen without a) great sponsors and b) the amazing members of the community who have all helped each other and those who are connected by way of the thousands of corporate sales teams we touch each year, and the hundreds (hopefully thousands) of women in sales who need more strong role models of success.
I'm so proud to be associated with the smart, accomplished, successful women sales experts of WOMEN Sales Pros. Please check their websites out, follow them here on Twitter, and follow our entire community of sales experts through this Twitter List.
Special recognition to the advisory board made up of some of the best in sales:
Big thanks to our amazing sponsors this year (follow them all here on Twitter: )
AA-ISP (Association for Inside Sales Professionals)
Connect And Sell
Prezi for Business
Inside Sales
DiscoverOrg
Membrain
Primary Intelligence
AppDataRoom
Openview Venture Partners
Octiv
Velocify
What is the power of working with your industry counterparts?
I know in our case, we are working to literally change the face of B2B sales one interaction at a time. We are inspiring young women to choose a sales career, or even try professional sales out. Women already in sales see an accomplished group of leaders they can tap into and learn from.
What can YOU do with YOUR industry counterparts? What are you doing already?
---
Lori Richardson helps mid-sized companies grow revenues by solving key issues in their sales department - like recruiting, retention, diversity hiring, process, pipeline and leadership. She speaks at CEO groups on topics of sales growth. Clients include companies in the technology, telecom, manufacturing, distribution, and professional services industries. Subscribe to the award-winning blog, follow her on Twitter
Increase Opportunities. Expand Your Pipeline. Close More Deals. Develop Sales Leaders
email lori@ScoreMoreSales.com | My LinkedIn Profile | @scoremoresales | G+