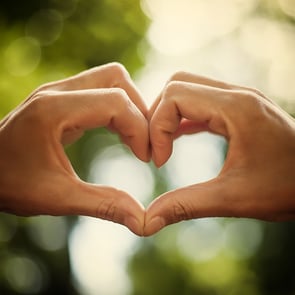 It is easy to take things for granted when all is going well – such as health, family, community and business. I happen to be in the professional, B2B sales industry where we are way too short on diversity yet I am lucky enough to surround myself with some of the most talented women and men in the world. When I compare my wealth with others I find that what we may not have in mansions and gold, we make up for in our health and our rich and special friendships.
For this Thanksgiving, I want to share my gratitude for all that is good by sharing a story you may not have heard of – or you may have since it gained national attention recently.
This is a story about a fighter - a little guy so tough who shows those around him every day what it means to fight and thrive – not just survive. His name is Ari Schultz, and he's the most amazing four-year old you'll ever meet.
Ari LOVES sports – not just watching, but participating. Ari has also gone through multiple open-heart surgeries and is currently waiting for a heart transplant. Ari went through not one but two fetal cardiac interventions while still in-utero because of a blocked valve in the left-ventricle of his heart. He is the son of our friends the Schultzes, who try to "be normal" overseeing their family of 3 kids every day knowing that there is nothing certain when it comes to their son Ari's health.
Recently, ABC World News shared our local story here in the Boston area about how Ari was "drafted" to play ball for the Assumption College Baseball team.
I've seen a lot of complaining about a lot of things lately. I'm making myself take moments to be grateful so that I don't forget what we often take for granted, and I thank Ari Schultz and his family for that reminder.
Our entire team here at Score More Sales wishes all a wonderful Thanksgiving to those in the U.S. and a thank you to those in Canada and around the world. We wish Ari and the Schultzes a thousand more great experiences together.
When I'm down, I think of Ari and I get back up and fight. If you're down, find inspiration for yourself and don't waste time feeling like you have it so tough.
---
Lori Richardson helps mid-sized companies grow revenues by solving key issues in their sales department - like recruiting, retention, diversity hiring, process, pipeline and leadership. She speaks at CEO groups on topics of sales growth. Clients include companies in the technology, telecom, manufacturing, distribution, and professional services industries. Subscribe to the award-winning blog, follow her on Twitter
Increase Opportunities. Expand Your Pipeline. Close More Deals. Develop Sales Leaders
email lori@ScoreMoreSales.com | My LinkedIn Profile | @scoremoresales | G+