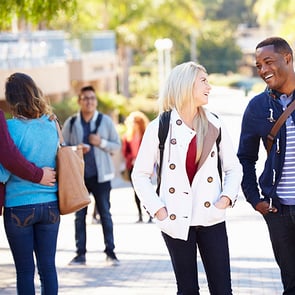 For years, those of us leading B2B sales teams or working with companies on onboarding new sales reps shook our heads at the disconnect between many college-educated graduates and their ability to do basic communication skills needed for success in a professional sales career.
We'd comment that no one teaches these skills in college.
"You can't learn sales at a university," my peers often comment.
Now I'm not talking about an exclusive college sales curriculum – although there are a few scattered programs today that do. I'm talking about basic interpersonal skills, like:
Listening for understanding
Speaking articulately so that the other person understands you
Writing effectively to convey precisely what is meant
Persuading others with your point of view
Managing yourself and your time
Presenting yourself professionally
Why Aren't Salespeople Better Communicators?
When I worked at CCBN, (a financial services SaaS company that was sold to Thomson Reuters), I was building an inside sales team but realized that we had lots of recent college grads who could not write a concise email or speak with authority so I proposed and ran a corporate university there. It was a big hit, and I've maintained my belief in the power of continuous learning for professional sellers ever since.
It's 2016 and there ARE Sales Majors at 13 schools around the U.S. Take a look at what Bentley University here in Boston offers for their Professional Sales undergrad degree. The program's founding director, Jim Pouliopoulos suggests that with a sales degree, graduates can basically choose where they want to be – industry, location, and company culture – by having marketable sales skills.
But Is It Too Late?
In the last year, several companies have created a concept of an in-person sales boot camp in various cities around America as well as virtual programs. The boot camp idea is similar to a very hands-on trade school. Learn exactly what you need to succeed at an entry level Sales Development position and they'll help place you in your first job. In most cases you'll work directly with companies in the "trenches" learning the ropes.
What this means is that you can invest four weeks of your life learning a craft, and walk out with a $75,000+ first year earning potential.
I am an advisor to one of these companies called Inside Sales Bootcamp. It is one of those ideas where the more you think about it, the more obvious it is that someone should find an answer to the shortage of frontline sales reps.
Most companies would prefer to hire a sales rep who already has learned the basics which will speed up their onboarding. This new idea has great merit.
Take a look at these programs – recommend young men, women and underrepresented minority candidates who may know they desire a sales career or may not.
We all agree that a foundation of knowledge in sales will help you in any direction you go in life.
Inside Sales Bootcamp – Based in Denver; has events around the West Coast and NYC, Boston.
Sales Bootcamp – Based in San Francisco; their grads have landed jobs at top SaaS companies
Startup Sales Bootcamp – for a startup needing to learn sales basics; Led by Juliana Crispo
Are there other Bootcamp programs for sales professionals? Please share here as a comment or on Twitter @scoremoresales
How do YOU learn and develop professionally as a seller or leader?
---
Lori Richardson helps mid-sized companies grow revenues by solving key issues in their sales department - like recruiting, retention, diversity hiring, process, pipeline and leadership. She speaks at CEO groups on topics of sales growth. Clients include companies in the technology, telecom, manufacturing, distribution, and professional services industries. Subscribe to the award-winning blog, follow her on Twitter
Increase Opportunities. Expand Your Pipeline. Close More Deals. Develop Sales Leaders
email lori@ScoreMoreSales.com | My LinkedIn Profile | @scoremoresales | G+