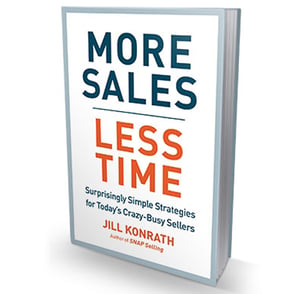 Having enough time for all of the responsibilities I had as a seller was always a battle. Sometimes I felt like a juggler with all of the balls in the air – not to mention juggling my family (I was a single mom) and community commitments while keeping at the top of the leader board.
That's why I was so glad to hear about best-selling author Jill Konrath's new book, More Sales, Less Time – Surprisingly Simple Strategies for Today's Crazy-Busy Buyers. I now have the perfect gift for clients and partners.
This year I had the pleasure of participating in a 3 part podcast with Brent Adamson and Nick Toman of CEB along with Jill Konrath and we talked all about the complexity of selling which involves the topic of time. (It's a fun series you can listen here) It was great to hear Jill's focus on how, as sellers, we are focusing on the wrong things – like spending too much time on email.
Do you know how much time we waste reading email?
In her typical, very easy-to-understand style, Jill shares stories and gives examples about reading email and other big time traps and then real ways you can get more time back in your day as a sales professional. For sales leaders, your whole team can free up time.
I read so many sales books and often they tell the "what" but not the "why". If I was still a sales leader, this is the book this year I'd buy for my reps, and then, in book club fashion, we'd meet up over a lunch and learn session to discuss each person's takeaways.
Not only do you get stories, but you get scientific research that backs up every tip and idea.
I'm not any sort of an affiliate for the book – I am a fan of her Jill Konrath and her ability to reach sellers in a way that helps them sell more. I've read (and given away) every Konrath sales book since "Selling to Big Companies" came out in 2005.
Check this book out on Amazon – or go to Jill Konrath's website. This is THE sales gift of 2016.
---
Lori Richardson helps mid-sized companies grow revenues by solving key issues in their sales department - like recruiting, retention, diversity hiring, process, pipeline and leadership. She speaks at CEO groups on topics of sales growth. Clients include companies in the technology, telecom, manufacturing, distribution, and professional services industries. Subscribe to the award-winning blog, follow her on Twitter
Increase Opportunities. Expand Your Pipeline. Close More Deals. Develop Sales Leaders
email lori@ScoreMoreSales.com | My LinkedIn Profile | @scoremoresales | G+