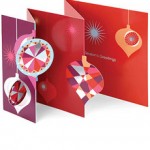 In recent days I have not been able to get holiday gift giving and card sending off of my mind. It seems to be in my DNA, as this time of year, I always work to prepare whatever I'm doing for the holidays for my business colleagues, clients, and prospective customers. It's something I look forward to - yep, I do. I know that you might not - since so many folks just skip or say they are 'too busy" I'm posting some tips and ideas that might inspire you, and I challenge you to consider making time for this "touch" for not just your customers but your strategic and referral partners.
Holiday Cards:
The holidays are right around the corner. Sending a note in the mail is inexpensive and easy to do. I believe in hand-written notes - there is NOTHING to take the place of them, and they can easily take the place of a small gift once given in times of greater small business wealth. Sure, there are easier ways - cards that are mailed out of Salt Lake City - I've used them - but for me, nothing takes the place of a short note. Cost of stamp + two-three sentences, addressed and mailed. Create mailing labels and return address labels - this will streamline the process. If you are using a good CRM system, it should not be difficult.
It is important to think about this because when you mail a card or you send an e-card, you are making one more connection - you are building rapport and a stronger relationship. With a handwritten card, even to your top 20 or 25 strategic partners, you are telling them that you are not too busy to think of them, and during down time - watching TV or on a flight, or waiting in a line - you complete them. Start now, and it will not be a problem.
Each year I send out cards to those I consider strategic partners - people who recommend Score More Sales - people who "get" what it is that we do, and are happy to mention us. They are our outside "sales force" and I don't ever want to take them for granted - so, if it is a bit of work, and time - I believe it is entirely worth it. I find it to be one great moment to say how much I appreciate them.
[By the way, my friends at Compendium, Inc (makers of great inspirational cards) are having a "Friends and Family" sale - code is on my Facebook page. But I digress.]
Other Card and E-Card Ideas:
Paperless Post has very expensive looking e-cards that do cost to send, but are luxurious.
Shutterfly or Costco will create the coolest of photo cards sooo inexpensively.
Business Gift Ideas:
It does not need to cost much to send a thoughtful gift to a client. Movie tickets or a theater gift card for that CEO who talks about doing things with his or her family is an annual winning idea for us, as an example. Now is the time to ask a question about what someone's favorite thing is or what they really like to do - and find a way to get them that experience - again does not need to cost much.
In fact, with so many small businesses on tight budgets, here are a few most amazing gifts of time and connection you can give - costs no dollars -
Write a very thoughtful endorsement and post on LinkedIn or Biznik if you and they have profiles there. Or create one they can use on their website.
Use that new Flip-cam to create a thoughtful, helpful video endorsement for your referral partners.
Go through your database and connect two or three of your good contacts to them for potential mutual business.
Offer a ten-minute brainstorm by phone to better understand who their target market is and how you can refer those you know.
Create a Yelp review of their business - especially if retail, hospitality, restaurant, or service provider.
Help them to create a LinkedIn profile or a Yelp profile - that is a great gift that will give over and over once they optimize them.
Offer to do a task for them that they have been putting off - that would be easy for you to do. Offer to trade a service for a service - just for this instance if you do not like to trade work for services. Or, offer them a freebie of your service in exchange for their evaluation of it or their endorsement (especially if you are new in business and need more buzz).
There really is no excuse when it comes to showing appreciation for good customers and strategic partners - not to mention friends and family - to say you are too busy - especially if you plan ahead and get it done early. Just sayin.