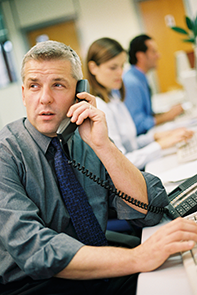 The most important thing I ever learned about sales is that you need to make it easy for someone to buy from you and your company. You help guide your buyer toward ideas and insights that improve their company, their role, and even sometimes their life through your products and services.
If you are newer to your role, you may not know how to make things easy for buyers so here are some quick ideas to be of help. Notice that they are all actions. Take these actions and you'll grow business:
Become a student of sales – which includes communication, psychology, presentation, storytelling, and performance. Find blogs, books, and enthusiastic teachers to follow. (we'd be honored to have you subscribe to our posts click here)
Focus your efforts more on learning why your customers buy from your company than any other thing.
Seek out industry peers of your client companies to talk to and learn about.
Listen more than you talk – especially when you are newer, and especially when you are not so new.
Set goals for yourself – don't wait for someone else to. How many quality conversations can you have today? How many "no's" can you get today? How many new prospective buyers can you identify today?
Learn from the most successful of your peers – not someone who was handed business but who started with nothing and build up a territory. What do they do that works consistently? Success leaves clues.
Try new things in a methodical way. Understand A-B testing.
Know your stats. I spoke with an SDR last week who, off the top of his head, knew exactly how many intro calls he had set up, how many of those moved forward to a second call, and how many converted into new business. EVERYONE should know their close ratio. Once you know, you can understand how much activity (prospects, appointments, and conversations) is necessary to hit or exceed your sales quota. Do you know your numbers?
Tell your sales manager about your success. Don't wait for him or her to come to you. Proactively inform – daily or every couple days – about new meetings you set or great conversations made. Your immediate supervisor should be considered like a customer of yours – more on that in a future post.
Find ways to be inspired and motivated. For many, having a photo of that dream home or new boat or college education paid off – right at your desk where you can see it – is very inspiring. It is a bonus if you have an inspirational leader at your company, but you don't need one to be successful.
What actions did we leave off? What other action do you take to move forward and close business?

Lori Richardson is recognized on Forbes as one of the "Top 30 Social Sales Influencers" worldwide. Lori speaks, writes, trains, and consults with inside sales teams in mid-sized companies. Subscribe to the award-winning blog and the "Sales Ideas In A Minute" newsletter for sales strategies, tactics, and tips in selling. Increase Opportunities. Expand Your Pipeline. Close More Deals.
email lori@scoremoresales.com | My LinkedIn Profile | twitter | Visit us on google+