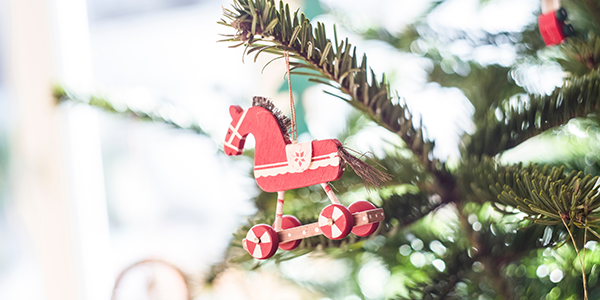 It is the time of year we traditionally think of a way of thanking a customer or referral partner, and we toy with whether to send a prospect some sort of a gift.
In many cases there are companies with strict gift receiving policies – especially bigger companies. This is because, as a sales professional you don't want to seem like you're trying to buy your customer's business nor reward them for being your customer.
A gift should be simply a token of appreciation - showing that you went out of your way to think of them and it should be as personalized as possible. It should not be too expensive because that is not appropriate for a buyer / vendor / partner relationship.
Here are the top ideas for what to send a customer, a prospect, or a strategic referrer to show appreciation during the holiday season.
My first tip is to PLAN WELL IN ADVANCE. If you are mailing something it can take extra time to reach your intended person. Some people rarely check their "snail mail" at the office. If it is someone important, be sure to send Priority in the mail system or use FedEx or UPS to track that it was delivered. It is well worth the fee to know that it actually got to the recipient's building.
My #1 tip for a holiday gift is to donate to your person's favorite charity. I don't mean the charity supported at the company they work for….although it could be. Most business folks volunteer or help with some smaller, local charity that has meaning because of a family or friend connection to it. Ask early on when they are new to being a customer or in a conversation about other things if they volunteer and if so, for whom?
Most of the time you can donate online and get an email sent to the person you've donated on their behalf for – or some will even mail them a note. Just make sure the charity / non-profit follows through.
Other ideas:
Books – either a "real" book through the mail or a Kindle gift, depending on the person's preference. You may need to ask which type of reader they are, as a passing comment in a conversation.
Professional Development – sites like CreativeLive offer a "gift a class" option.
Gift Cards – still very easy as you can order most digitally. I look for a card that has broad appeal – meaning it will be of use to more people than a brand I may like but others don't know about, AND I look for ease of my ordering the gift card(s). Starbucks is very easy to gift, so are many others.
Handwritten Poem – If you are a good writer and can convey a verse or two about the company or recipient in a fun or funny manner, this can be a very special gift. There are lots of people online who can turn it into something even further with calligraphy.
Use a gift platform – We use Sendoso and can send out a group of gifts at the same time in a very simple way since they have done all of the pre-work and they streamline the sending.
Localized gifts – Since Score More Sales is based in Seacoast New Hampshire, we have some great options to send our partners and clients gifts around lobster, chowdah, or from our friends at Stonewall Kitchen who make jams, mustards, and lots of great gifts for foodies.
Immortalize a Saying – if your prospect, or referral partner, or customer has a saying they always say or are known for, have a calligrapher create it on paper and frame that as a gift. It shows you were paying attention – and is not a high dollar gift so is a great one all-around. Could also work for a corporate tagline.
Logo'ed items – but read carefully, I'm suggesting you put your customer or referral partner's logo on, not your own. Sure, your logo'ed items are good during the year, but for a holiday gift, focus on the other person's logo and make them something amazing they can use
Handwritten note – A thoughtful note on a blank notecard can go far – and while is not a cool gift from Amazon it IS something that most buyers or customers will keep – especially if it is personalized and meaningful in some way. These take time to do. I often will write note cards in an evening or on a weekend when I can focus.
Take a look at the book, Get the Meeting by Stu Heinecke for many more ideas – especially if your goal is to land a meeting rather than simply thank someone – there are hundreds of ideas here.
---

Lori Richardson is CEO of Score More Sales, a top B2B sales strategy firm helping mid-sized companies grow revenues by solving key issues in their sales department - like recruiting, retention, diversity hiring, process, pipeline and leadership Lori is also President of Women's Sales Pros - a community created to help move the needle for more women in sales and sales leadership roles. Lori helps She speaks at CEO groups on topics of sales growth and the importance and value of diversity. Clients include companies in the technology, telecom, manufacturing, distribution, and professional services industries.
Lori received the 2019 "Lifetime Achievement Award" from AA-ISP (American Association for Inside Sales Professionals - The Global Inside Sales Association) and is a LinkedIn 2018 Top Sales Voice.
Subscribe to the award-winning blog, follow her on Twitter and connect on LinkedIn
Increase Opportunities. Expand Your Pipeline. Close More Deals. Develop Sales Leaders
email lori@ScoreMoreSales.com | My LinkedIn Profile | @scoremoresales