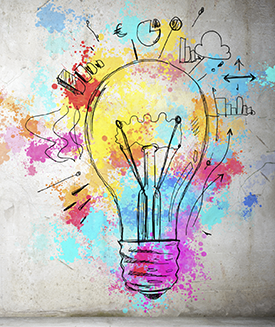 Creativity is an important element in selling, yet many of us don't think of ourselves as creative. We often think about when we played a musical instrument as a kid or those art projects we did in grade school. Creativity is much more than your old handmade greeting cards, collages and papier-mâché. It is a way of thinking to solve tough sales issues and every day sales challenges.
General sales challenges come in all forms and sizes –
Who is my buyer?
How do I reach them?
Where do I find more of them?
There are organizational sales challenges, like:
Who should I call today?
What sales opportunity is the most important for me to focus on?
How should I spend my time this week?
There are specific sales challenges, like:
My main contact in my big sales opportunity won't call me back. What should I do?
I keep hearing the reply, "we're all set" when I prospect. How do I give a better response?
Our prospective customer is asking me how we are different. What do I say?
The Power of Disorganization
What I know for sure is that when you are disorganized and you don't have a good system in place to track prospect and customer information you lose the ability to be creative. Organization and efficiency expert David Allen talks about freeing up your brain so that you can be more creative.
Free your brain. Get a no-fail system to keep track of all of your prospective buyers, all of your sales opportunities and all of your next actions so that your brain can help you with creative solutions to your tough challenges. If you can do this, you will see a surge in ideas that you have to deal with anything that comes along.
Consider picking up the guitar or take singing lessons too – the creativity you will use in that part of your life will transfer to your sales career.
Resources
Read Why Creativity is So Important for Your Sales Pitch on the Showpad blog.
Read Agile Selling by Jill Konrath
Read Getting Things Done – The Art of Stressfree Productivity (new 2015 version) by David Allen
Read 3 Sales Tips from Two Year Olds (blog post)

Lori Richardson is recognized on Forbes as one of the "Top 30 Social Sales Influencers" worldwide. Lori speaks, writes, trains, and consults with inside sales teams in mid-sized companies. Subscribe to the award-winning blog and the "Sales Ideas In A Minute" newsletter for sales strategies, tactics, and tips in selling. Increase Opportunities. Expand Your Pipeline. Close More Deals.
email lori@scoremoresales.com | My LinkedIn Profile | twitter | Visit us on google+