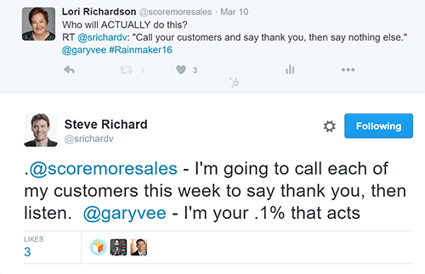 You have customers.
You are working to get new customers.
You are working to grow business.
A couple months ago I heard Gary Vaynerchuk speak at a business conference. Gary is a serial entrepreneur, best-selling author, and top personality talking about – sometimes shouting about – business fundamentals, attitude, and work ethic.
I've heard Gary before – he's known for peppering his talks with F-bombs and speaking his mind. There is not a time I've heard him – 3 times now – where he didn't make me think, challenge a belief of mine, and give me an idea. That's the trifecta of a true performer.
Gary this day was in front of a large crowd of mostly tech sales leaders. He predicted that everyone depending on the calling aspect of their business – talking to people by phone – will be changed in an instant as soon as Google or Facebook or another corporate giant comes up with the app that can further screen a call. This audience is currently heavily dependent on the phone as one way to reach prospects. It's not a cold-calling crowd but a phone-as-a-touch-in-the-prospecting-cycle audience.
We know this will happen – as UBER changed the taxi business forever and AirBnB changed the travel business.
Gary also had an OLD school, timeless suggestion of calling your customers for no reason other than to say THANK YOU. He said only 1% of the audience would actually take action and do this.
When was the last time you did that? He wrote about it in 2012 here in Entrepreneur.
This post is meant to be short and sweet.
Call your customers.
Thank them.
No matter how long it's been since you talked with them.
WILL YOU DO IT?
Steve Richard, CEO of ExecVision did what Gary suggested and I asked him what happened. He said: "They were surprised and said THANK YOU. Some spontaneously gave referrals. It was fun."
Let me know if you DO IT.
I'm doing it over the weekend.
Have questions for Lori?
---

Lori Richardson is recognized on Forbes as one of the "Top 30 Social Sales Influencers" worldwide and is a Top 25 Innovative Sales Blogger. Lori speaks, writes, trains, and consults with sales teams in mid-sized companies. Subscribe to the award-winning blog for sales strategies, tactics, and tips.
Increase Opportunities. Expand Your Pipeline. Close More Deals. Develop Sales Leaders
email lori@ScoreMoreSales.com | My LinkedIn Profile | @scoremoresales | G+