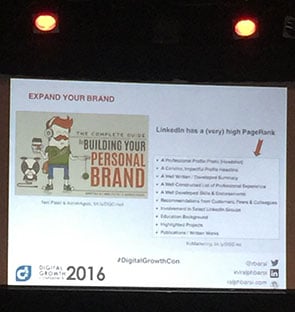 This week I attended the Digital Growth Conference (#DigitalGrowthCon) in San Francisco put on by Sales for Life. I tend to be critical of conferences because they take dozens, hundreds, or even thousands of people away from work and it is important that they add value for those who attend. Since I flew in from Boston to San Francisco just for this, I really had high expectations for their first-ever event.

I was not disappointed. Fortunately, the event was created as a "no fluff" day – many of us have gotten a bad taste in our mouths from vendor-sponsored speaking where it is product focused and not educational. Other than a couple of sessions I found true value and ideas worth sharing.

My top takeaways are more about the people who presented and those that attended but also have some nuggets of value:

In-person events: There is still NO replacement for meeting people in person. Because this was a couple hundred attendees there was the opportunity to talk with most anyone there. It was extremely valuable to share ideas with presenters and attendees alike. No matter what anyone says, there is no substitute for this – at least not yet. Budget time and money to attend top quality events.

True Stories are the Best Way to Learn: Because this event was about adoption of social selling (and social everything) one of my favorite sessions was led by Justin Shriber, Head of Marketing at LinkedIn Sales Solutions. Even though I have some major frustrations with LinkedIn and their marketing strategies right now (ironically) I loved that Justin shared short stories about actual sellers who implemented social strategies and gained success. THAT'S WHAT WE ALL WANT TO HEAR ABOUT!

Definition of Social Selling: I liked Jamie Shanks' clarity in saying that what he's talking about in social selling is about these three things: trigger-based selling, referral selling, and insight-based selling. It's not about a social platform but in how you put these three sales strategies into place.

Jill Rowley, who closed the day with an excellent talk gave this definition of social selling:

"Using social networks to do research to be relevant to build relationships that drive revenue."

The Value of Social Selling has Proof: There are a lot of stats and insight around ROI of social selling and most of it gets disputed. I'm always looking for more fresh studies. This one has been out for a while - A study from Corporate Visions shows the following:

74% of deals are awarded to sales reps because they are first in providing insight to buyers.

The last 26% of deals is the "commodity zone"

Big Takeaway:

The sales team must engage the buyer earlier with insights. The sellers in that "commodity zone" will ultimately be replaced with online buying. To be a seller with added value, you must engage buyers early and with a value-added, insight-focused approach.

I was happy to fly in for this event and look forward to a bigger version next year. The entire staff at Sales for Life was fantastic, and attendees – who were CSOs, CMOs, and high level sales leaders were all great to talk with. Look for more posts from this event in the coming weeks.

ACTION TIP:

Look through the Twitter feed for #DigitalGrowthCon tweets if you haven't already and find dozens of great nuggets of information from Jill Rowley, John Barrows, Ralph Barsi, Tiffani Bova, Keenan, Koka Sexton, Jon Ferrara, and others.
---

Lori Richardson is recognized on Forbes as one of the "Top 30 Social Sales Influencers" worldwide and is a Top 25 Innovative Sales Blogger. Lori speaks, writes, trains, and consults with sales teams in mid-sized companies. Subscribe to the award-winning blog for sales strategies, tactics, and tips.
Increase Opportunities. Expand Your Pipeline. Close More Deals. Develop Sales Leaders
email lori@ScoreMoreSales.com | My LinkedIn Profile | @scoremoresales | G+