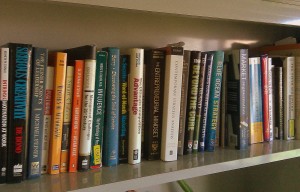 One of my weaknesses, as a "student of sales" and as a "student of life" is in buying business books. Real, hard bound and soft cover old school books. As one of those odd ducks who only reads non-fiction, over the years I've gathered hundreds of books on the shelves. Additionally, I get a lot of books mailed to me to review, and some were given to me as gifts.
Since I need to downsize a bit, I decided to pull out 50-75 of these books and instead of dumping them off where they won't be appreciated, we came up with this idea that is a win/win/win. Books in this group are authored by Seth Godin, Guy Kawasaki, Keith Ferazzi, Marcus Buckingham, and many others. They are top sales books, marketing / branding books, training, team building, and a couple of wild cards thrown in too.
Click here to see how the Get Books and Fight Hunger works:
Most look brand new, some have some wear, and a couple were signed or have a sticker on - but all are very usable, for a flat $5 each donation to our wonderful Seacoast Family Food Pantry - which has been helping families since 1816!
I love triple wins -- where each of three parties involved gains. Here is how our triple-win Get Books and Fight Hunger works:
Visit the page about this project. Click on the PDF to see what books are still available. Follow the instructions on the page. Get new (to you) books. The team will update the book list at least once a day.
The Food Pantry wins with all the $5 donations that add up, and I get rid of some great books, and YOU get new reading material!
You can do the same, too - my colleague, author Anne Miller emailed and told me she gave about 100 books to a center that fights AIDS in NYC. Let us know what YOU did with YOUR extra books - perhaps you can whittle some down and help others too?

Lori Richardson is recognized as one of the "Top 25 Sales Influencers for 2012" and one of "20 Women to Watch in Sales Lead Management". Lori speaks, writes, trains, and consults with inside and outbound sellers in technology and services companies. Subscribe to the award-winning blog and the "Sales Ideas In A Minute" newsletter for sales strategies, tactics, and tips in selling.