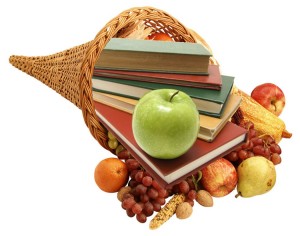 Last week I set aside about 60 business books and without much effort offered them to you for a donation of just $5 per book, and shipping costs to you in our Books for Food project.
First, people contacted me wanting one specific book. Then another specific book. I thought it could turn into a tough, time-consuming project.
Then, people started asking for 4 or 5 books - then 9 or 10 books.
Pretty soon, the bulk of the books was GONE. Shipped off, with little effort.
The charity we chose this time around, Seacoast Family Food Pantry made a few hundred dollars and counting. Seems that some folks just were happy to make a donation - didn't even need a book.
I just want to thank everyone who participated, and let you know that YOU can do this too.
If you have nice clothes you are not wearing, or accessories, or jewelry, or briefcases, or espresso machines, an old car, or whatever it may be - consider clearing them out in exchange for donation to a good local cause.
I like local causes because you see the dollars in action, and I've always been that way. You probably won't see us donating to a national charity - we do things locally.
We have lighter bookshelves here in the Score More Sales offices and we have helped feed people in the community. Sure, it is not thousands of dollars, but just think if we were all a bit more mindful - a little bit here, a little bit there soon would equal a lot.
That's how things get done - in business and in life.
Can this inspire you to complete a project at work today?
Can it help you get things out of your house or garage and re-purpose them?
Can you find a local charity to support in your community? Now you see how easy it can be. Adopt one.
Let us know what happens. We love success stories!



Lori Richardson is recognized as one of the "Top 25 Sales Influencers for 2012" and one of "20 Women to Watch in Sales Lead Management". Lori speaks, writes, trains, and consults with inside and outbound sellers in technology and services companies. Subscribe to the award-winning blog and the "Sales Ideas In A Minute" newsletter for sales strategies, tactics, and tips in selling.