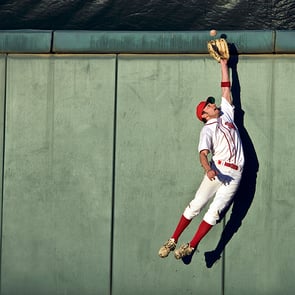 Top sports teams know a secret that we can all use in business and especially sales.
You don't always win. Sometimes you lose.
If you don't dwell on the loss you can win again tomorrow.
I was thinking about this again recently when I heard that the Red Sox had lost 21-2 to the Angels at Fenway Park.
Red Sox team manager John Farrell said they were embarrassed at the loss.
The Angels gave the Red Sox their largest margin of defeat since 2000. It was bad.
I thought about two things immediately. First I was so glad I was not there to witness that loss. Then it hit me about the parallel in sales.
You have a lot of sales opportunities you're working on – they don't all come to closure in the way you might want.
They do not all turn out to be deals – because they were not really qualified in the first place, or because you didn't help the buyers in a way that they saw great value.
There sometimes is a flukey reason – things happen that you don't expect.
Anyway you look at it, you have to deal with loss and handle sales rejection in a professional sales career.
Sales leaders know that their best reps do not have a fear of rejection and can bounce back from adversity quickly. (Handles Rejection)
One rep, who worked for a client I was working with, had six meetings scheduled. He perceived six sales opportunities, had the six conversations with the six different companies and determined that none were qualified – none would move on.
He was devastated. Not too much later, he resigned. Sales was not for him, he said.
One of the Red Sox players was interviewed right after their 21-2 loss. I can't remember who, but he simply offered that famous saying:
"In baseball there's always tomorrow"

The next night they came out and beat the Rangers 12-5.
That's the way it works in sports. You do your best, and if you come up on the short side, you have tomorrow to start again.
In sales it is the same way.
Those who can't handle a buyer not seeing the value you are trying to convey and telling you "no" will not succeed for long in a sales career.
A "no" is not the end of the world.
In fact, a quick "no" is the next best thing to a "yes" – because your time has not been wasted.
Work on getting 5 "no's" this week – you may be surprised at when you step up ready for a no, and you actually get a yes.
It's a buyer's view of what you are offering that determines if you and your buyer move forward to closure. Focus on them, help show the value, and get either a "yes" or "no". Then more forward.
Remember, in sales, there is always tomorrow.
---

Lori Richardson helps mid-sized companies grow revenues by solving key issues in their sales department - like recruiting, retention, diversity hiring, process, pipeline and leadership. She speaks at CEO groups on topics of sales growth. Clients include companies in the technology, telecom, manufacturing, distribution, and professional services industries. Subscribe to the award-winning blog, follow her on Twitter
Increase Opportunities. Expand Your Pipeline. Close More Deals. Develop Sales Leaders
email lori@ScoreMoreSales.com | My LinkedIn Profile | @scoremoresales | G+