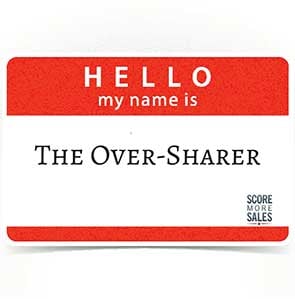 Continuing our theme of improved communications at work, with prospective buyers and existing clients, we cannot overlook the over-sharer. This person doesn't just talk too much – you know the type – they ALWAYS have a story to offer – sometimes even topping the one you or a prospect just told.
Over-sharing became clearly understood through social media, because it's rampant. In this case, we're talking about a condition within verbal or emailed conversations that focuses more on you and less on your buyer, prospect, client, referral partner or peer.
How do you know you are over-sharing? This is the perfect time to learn more about self-awareness.
For starters, you can learn about micro-expressions and take a test to see how to better identify them in people you are speaking with in person. If you are an inside sales rep or spend a lot of time on the phone, this test is great for understanding more about how your work peers feel and is worth taking. It was developed by professor of psychology Paul Ekman, PhD.
Next, think about what others tell you – or what you don't accomplish. By focusing on telling so much, you are limiting your time for others to share. When you are in sales, this one thing can destroy your chances for success.
Self-awareness is learning about your strengths and also the things you need to work on. Since sales is "human on human" interactions – none of us ever know everything.
If you are lucky enough to work in a sales team where coaching feedback is given from your recorded sales conversations, embrace that and learn from it. Be open to it, since views from those other than you can be extremely valuable.
It is one thing to occasionally offer "TMI" (too much information). We can all get caught up in that once in a while. This idea of over-sharing is more about you always having something to add.
Work to curb your urge of "one-upping" with that next story and instead ASK a question of the person who just shared to learn more.
Focus on the other person, their interests, their aspirations, and how you can help them solve issues through your products and services.
Think about the immortal words of Teddy Roosevelt, "People don't care how much you know until they know how much you care."
By focusing on the other person and less on your great and amazing next story to top theirs, you will show how you care about the other person's best interests. That's part of professional selling.
Know someone who talks too much (or is that you?) Read what RAIN Group had to say about it here.
---

Lori Richardson is recognized on Forbes as one of the "Top 30 Social Sales Influencers" worldwide and is a Top 25 Innovative Sales Blogger. Lori speaks, writes, trains, and consults with inside sales teams in mid-sized companies. Subscribe to the award-winning blog for sales strategies, tactics, and tips.
Increase Opportunities. Expand Your Pipeline. Close More Deals. Develop Sales Leaders
email lori@scoremoresales.com | My LinkedIn Profile | @scoremoresales | G+