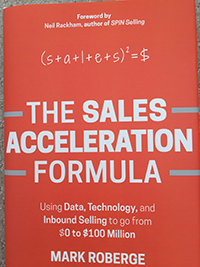 For at least four years I have followed the growth of Hubspot, a local business "darling" here in the Boston area. I'm in the sales space, where everyone tells great stories – whether true or not – about business building and revenue numbers. It is easy to get jaded in our sales creation industry- especially about creating scalable, predicable revenue.
When I first heard about the rapid growth at Hubspot I wondered what their story was. Over time, I learned about Mark Roberge – the fourth hire at Hubspot as the guy to build their sales team.
Build their sales team? Mark was an MIT engineering graduate. What did he know about sales? As it turns out, Mark came to master what many sales leaders do not do – use process – predicable process – to build each aspect of the sales ecosystem.
What Mark didn't know about sales helped him succeed.
I've gotten to know Mark over the years and am thrilled to see his new book, The Sales Acceleration Formula: Using Data, Technology, and Inbound Selling to go from $0 to $100 Million today.
Rarely do I promote a book as a complete standout. I'll go so far as to say that I think this book is the next "Challenger Sale". It is a book everyone is going to be talking about.
The four formulas in the book, along with stories and lessons learned will assist anyone building a sales team in the B2B space. Mark goes in detail about:
1. The Sales Hiring Formula
2 .The Sales Training Formula
3. The Sales Management Formula
4. The Demand Generation Formula
Each section has invaluable ideas to help you grow business, starting with the foundation of hiring the right professionals for your team and building from there.
The book was written with three layers of takeaways –
First, it offers useful tactics for predicable and scalable revenue.
Second, it offers encouragement for readers to challenge the status quo and continuously improve.
Third (and my favorite part) is a challenge to help improve the perception of professional selling and sales leadership.
You can order The Sales Acceleration Formula: Using Data, Technology, and Inbound Selling to go from $0 to $100 Million
here. This is a fantastic read – the type that you give out to everyone you know in sales.

Lori Richardson is recognized on Forbes as one of the "Top 30 Social Sales Influencers" worldwide. Lori speaks, writes, trains, and consults with inside sales teams in mid-sized companies. Subscribe to the award-winning blog and the "Sales Ideas In A Minute" newsletter for sales strategies, tactics, and tips in selling. Increase Opportunities. Expand Your Pipeline. Close More Deals.
email lori@scoremoresales.com | My LinkedIn Profile | twitter | Visit us on google+