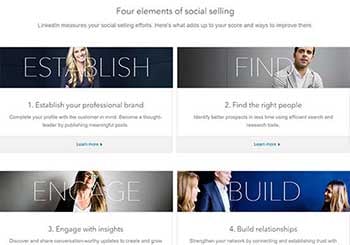 If you want to measure how you are doing on LinkedIn, you can now get an SSI (Social Selling Index) score to understand how you are doing on LinkedIn in relation to others in your network. Using LinkedIn's four key areas of social selling – they call them the four elements – you can improve upon your SSI score.
That is all well and good, however MY interest is in HOW you relate to your future customers and clients. HOW do you interact with existing clients? Let's use the four elements to get some tactical ideas for BETTER success on LinkedIn.
Just yesterday I received one more LinkedIn message from someone who has asked me to connect with them. I don't add everyone who requests to connect – what I do is accept those who are in or around my world of business-to-business selling. They have good strong connections already, and they have a good solid professional profile.
This person made the big mistake once I connected though. She immediately sent me another message thanking me for the connection (often a bad sign of what is to come) – then she did the big TELL about what she does and who she is looking to connect with. Do I know of anyone? Am I interested myself? That's bad. Don't do that. I always "un-connect" as soon as that happens. This time I sent her a note saying to read my and others' posts about why you don't want to do that and how it robs money out of your pocket being focused on you and not those valuable folks you've connected to.
1) ESTABLISH:
Create your professional brand so that as a future client of yours, I'm drawn to you. Spend the time and money it takes to look polished. This starts with having a really nice head shot – whether your cousin takes it or a professional photographer – look at others and make sure yours is great. Write about how you help others in the role that you do. Know who your target market is. Publish insight about your industry – NOT about your company – and grow a following on LinkedIn and get those folks to your own blog. There are SO many great resources for top ways to do this and actual examples now, all you need to do is a quick search for them.
2) FIND:
The next step according to LinkedIn is to find the right people you are working to attract. Use the LinkedIn search tools. We'll discuss other tools in a future post. If you are not using LinkedIn's Advanced Search – well, you need to. I can search by geography, by where you used to work, where you currently work, and I can set up a regular search so that weekly I get an email from LinkedIn with more leads for me based on my search criteria.
3) ENGAGE:
LinkedIn calls what you need to share "conversation worthy insights" – I love that. This means it's not just what YOU think is an insight, but what will drive a conversation. All too often someone messages me saying "I have read your blog and really like it, and am wondering…. Blah blah blah.". If they would JUST personalize and tell me something they actually DID read and like (otherwise this is a generic "trick" you're using with me and all of my peers. Be specific, and be genuine.
4) BUILD
Now for the fun part – building relationships! As an expert relationship builder, I would tell you that it is simple, not easy. Building relationships take TIME. It is not instant gratification, folks. Plant seeds today that will become plants and trees down the road.
You can read all about these items in many other places. I really liked the simplicity of LinkedIn's graphic and their aim to help you look at social selling the right way.
Maybe its time to review your LinkedIn profile - we'll give you our "cursory" review based on a first glance at your LinkedIn profile.
---

Lori Richardson is recognized on Forbes as one of the "Top 30 Social Sales Influencers" worldwide and is a Top 25 Innovative Sales Blogger. Lori speaks, writes, trains, and consults with inside sales teams in mid-sized companies. Subscribe to the award-winning blog for sales strategies, tactics, and tips.
Increase Opportunities. Expand Your Pipeline. Close More Deals. Develop Sales Leaders
email lori@scoremoresales.com | My LinkedIn Profile | @scoremoresales | G+