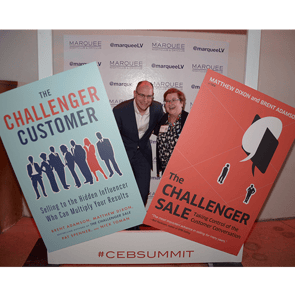 I headed to Las Vegas for CEB's Annual Sales and Marketing Summit with a bit of apprehension. I had never attended before, and was thinking that it might be a very academic marketing focused crowd even though "sales" is in the name of the event. I also had never met the CEB folks in person – just through virtual conversations, social posts, and of course, in reading the hugely popular "The Challenger Sale – Taking Control of the Customer Conversation" and the more recent "The Challenger Customer – Selling to the Hidden Influencer Who Can Multiply Your Results".
Prejudging Causes Lost Time
I had heard this was an academic-type of event with a lot of smart CEB'ers. If you are not familiar with CEB they are a best practice insight and technology firm based in Virginia. What I found was an extremely well-run several day event with opportunities to learn more about the Challenger model but also about many sales, marketing and learning topics, such as:
Better onboarding
Use of video in learning
How to better coach as a manager
How buyers buy
My assumptions caused me to not attend until now. Glad I finally did.
The Community of Customers and Partners is Amazing
The crowd was made up of marketers and heads of sales, with partners and sponsors in attendance as well. One of the keynotes was the brilliant Bob Moesta, President and CEO of Rewired Group who has had a hand in creating and commercializing over 3,500 products. I was captivated with his stories – especially about Milky Way bars versus Snickers. Any time you can hear a brilliant innovator it is worth everything else to attend.
Getting to know some of the attendees was great because there were a lot of sales leaders there from enterprise companies and smaller who are doing very cool things in sales enablement and revenue growth. No one purports to know all of the answers, and this "learning lab" environment is welcomed.
CEB Is Not a Stuffy Bunch
and
They Have Passion for What They Do
As you can see in my photo with Brent Adamson, Principal Executive Advisor at CEB, this is a fun bunch of folks to be around. They are not buttoned-up academics! I had the pleasure of being interviewed by Brent along with sales author Jill Konrath and CEB's Nick Toman for an upcoming edition of the CEB Sales & Marketing Podcast Series.
As I head home I'm going to be thinking about CEB's newest research, including the fact that the buying group sales teams call on is LARGER than ever (6.8 people) and it's harder to be a seller than ever due to complexity and other issues. Watch for my CEB insights next week.
---
Lori Richardson helps mid-sized companies grow revenues by solving key issues in their sales department - like recruiting, retention, diversity hiring, process, pipeline and leadership. She speaks at CEO groups on topics of sales growth. Clients include companies in the technology, telecom, manufacturing, distribution, and professional services industries. Subscribe to the award-winning blog, follow her on Twitter
Increase Opportunities. Expand Your Pipeline. Close More Deals. Develop Sales Leaders
email lori@ScoreMoreSales.com | My LinkedIn Profile | @scoremoresales | G+