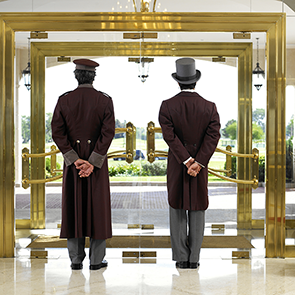 It was a tale of two retail stores and the customer service they represent. I dropped by a Staples store to pick up a few items this week. No one greeted me on my way in, even though it is just a few minutes after 9AM with only a few shoppers in the store. Not to worry, I am used to this in retailers – so I get my items and head toward the registers to check-out.
I found one cashier with a line of four shoppers waiting. These were no small-time shoppers - they were business shoppers with lots of items and questions. As I stood there, fourth in line, I looked around to see a manager talking to two other employees, and at least two more staff in my line of vision. Five more employees and management who could have at least recognized that there was a line and said something. There was nothing done.
Retail employees where I seem to shop are really good at not making eye-contact or saying much to those waiting. It makes you feel unimportant and as if you are interrupting store employees.
As I stood in line for 4-5 more minutes, I said to myself,
"I can order this stuff online!"
There was nothing I was buying that I absolutely needed today. I put everything down and left. To the best of my knowledge, no one noticed.
I went next door to Trader Joe's. They open at 9AM and a few produce items were on my list to get. As I walked in I was greeted – after all, they just opened ten minutes earlier. They were smiling, and happy. I felt good being there.
This time when I went to check out there were ALSO four shopping carts in line. This is where store philosophy differs. Someone immediately called for more help, and not one but two store employees came to our aid and suddenly there was no more line. Voila.
The Trader Joe's shopping experience makes me still want to get out and shop – even though I can order produce from my computer.
In a time where it was just announced that Macy's would cut 10,000 jobs and close 68 stores, and Staples already reduced hundreds of positions, retailers need to do MORE than they did before to welcome and support shoppers. Retailers need to TEACH their staff that without customers like me in the door there will be no store in a number of months or years.
Don't put all the irritation on the poorly paid (in many cases) employees though. This is a LEADERSHIP issue.
A few weeks back I stopped in at a Blaze Pizza store for a salad. It's a recent addition in Cambridge, MA and I hadn't been in yet. The store manager was the one who made sure I was taken care of there, and who came out from behind the counter and talked to the lunch crowd, going from table to table, to make sure diners had what they needed. It was refreshing.
There are TWO lessons for B2B services and product providers:
Lesson #1
Treat your buyers respectfully. Acknowledge them as they go through their buyer's journey. Add value in any way that you can.
Lesson #2
As retail locations continue to shrink, there are some great potential sales reps to find. Start looking now. When you see someone repeatedly at a service-minded retailer, create a friendship with those who offer great service. Assuming they are coachable and trainable, with a high level of Sales DNA, they could be your next great sales development rep or account executive.
Since I began in retail myself, I know this is one path to selling in a B2B environment.
---
Lori Richardson helps mid-sized companies grow revenues by solving key issues in their sales department - like recruiting, retention, diversity hiring, process, pipeline and leadership. She speaks at CEO groups on topics of sales growth. Clients include companies in the technology, telecom, manufacturing, distribution, and professional services industries. Subscribe to the award-winning blog, follow her on Twitter
Increase Opportunities. Expand Your Pipeline. Close More Deals. Develop Sales Leaders
email lori@ScoreMoreSales.com | My LinkedIn Profile | @scoremoresales | G+