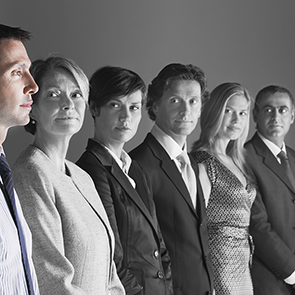 Al Martin was the best sales manager I ever had. He led by example and you could often see a split second of decision making before Al would give you an answer based on his very clear sense of right and wrong.
Once Al and I went in person to a sales call. The executive we were to meet with was running late. Rather than sit and wait, Al (who was about 6'5") stood up in the waiting area and slowly paced – occasionally checking his watch. This made the receptionist very conscious of every extra minute we were waiting.
Al's belief as a former executive at IBM was that you wait no more than 15 minutes for someone before you offer to reschedule the meeting. He knew that there must be a mutual respect between buyer and seller. On the dot at minute 15, Al suggested that we should reschedule. The receptionist, who had seen Al pacing in wait for the tardy executive now went on our behalf to let that person know he had some important people in the lobby.
The executive showed right up and Al, with a big smile on his face told the executive that we were just about to leave, and reschedule – unless this time still worked for him. Our C-level exec apologized profusely and we went on to have a very respectful meeting.
I will never forget waiting with Al because it really taught me that as a professional seller, at that time selling technology, what I did was respectful and worthy of any C-level executive's time and attention.
Your sales manager SHOULD teach you how to be more of a professional like Al did for me. He or she also should coach you on ways to get better.
In my selling career I had 23 managers. Some were amazingly awesome like Al, and some were completely awful. The awful ones were self focused, sometimes competed with me and the other reps because they were a "player / coach", and they did not have my professional interest in their mind.
8% of Sales Leaders Coach Effectively
There is no dispute that sales people DESERVE good sales leadership.
We NEED it to grow, learn and get better.
We need to be coached to greatness by those who know HOW to coach.
Objective Management Group's Dave Kurlan reports the following in 10 Keys to Better Sales Coaching:
It makes sense that great coaching has a great impact, but only 8% of all sales leaders are able to coach effectively. And only 28% of all sales managers spend 50% or more of their time coaching which tells us two more things: Assuming that the 8% who are effective are equally distributed between the 28% group and the 72% group, only 2.25% of all sales leaders spend enough time AND are really good at it.
Are you leading your reps or just managing them?
Does your manager inspire you every day?
---
Lori Richardson helps mid-sized companies grow revenues by solving key issues in their sales department - like recruiting, retention, diversity hiring, process, pipeline and leadership. She speaks at CEO groups on topics of sales growth. Clients include companies in the technology, telecom, manufacturing, distribution, and professional services industries. Subscribe to the award-winning blog, follow her on Twitter
Increase Opportunities. Expand Your Pipeline. Close More Deals. Develop Sales Leaders
email lori@ScoreMoreSales.com | My LinkedIn Profile | @scoremoresales | G+